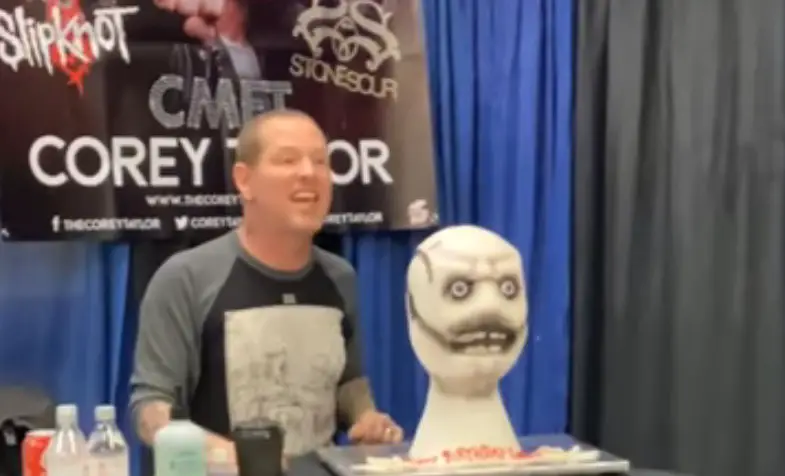 SLIPKNOT and STONE SOUR frontman Corey Taylor celebrated his 48th birthday this past Friday (Dec. 10) at Steel City Con, the pop culture celebration that takes place a several times a year at the Monroeville Convention Center in Pittsburgh, Pennsylvania.
The organizers of Steel City Con surprised Taylor with a special cake in the shape of his current SLIPKNOT mask, which Taylor designed earlier this year with the help of a Halloween mask sculptor named Connor Deless.
You can check a video of cake presentation below.
During a recent interview with Consequence of Sound, Taylor said about upcoming SLIPKNOT album: "It's an expansion of where we were at on We Are Not Your Kind. This band has always prided itself on expanding boundaries, expanding our musical vision. It's got the heavy… There's so many different elements on this one, man, that let's just say I'm really excited to get the vocals on it. I've got all the lyrics written and whatnot. I'm starting to fine-tune everything. It's gonna be interesting, man.
He continued: "I think I talked about it somewhere else where this is the first time in a long time on a SLIPKNOT album where I'm not just talking about things from my point of view; I'm trying to look at things from other people's point of view and tell different stories again. I'm kind of getting back to that, and it feels very freeing. It's very liberating, man. And it's gonna be rad. There's a couple of songs on here that people are gonna be, like… There's definitely some pit openers that are gonna f*cking freak people out. It's gonna be rad."