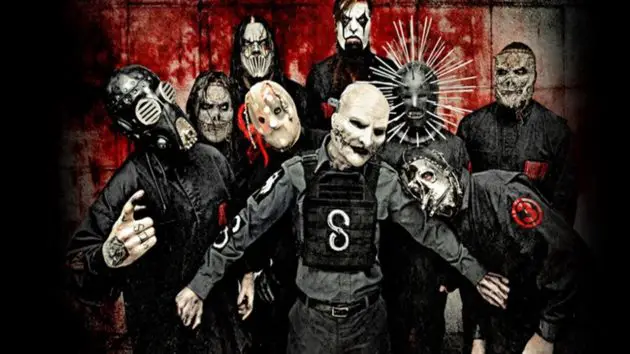 Shawn "Clown" Crahan briefly addressed SLIPKNOT parting ways with drummer Joey Jordison back in 2013, admitting to NME he never thought something like that would happen:
"I don't talk about Joey. But I say a few things these days.
"This is a hard lifestyle. There's lots of paths, and lots of things that dictate the path. It's almost impossible to have balance, it's like, 'Am I nothing or am I everything?'
"I guess we just grew apart, that's all I can really say, out of respect and love for him.
"I didn't help start a band thinking anything like that would happen, or that Paul [Gray] would pass. Corey Taylor won't be mad at me saying, but I didn't think there'd be other bands.
"I thought we'd wear masks forever. I wanna believe I'm a rock star, [but if I acted like that], you'd be standing next to me going, 'This is ugly sh*t.'"
During the rest of the chat, Clown repeated some things he already said and that we already reported on – that Slipknot will be entering studio next fall and that the next album could be their last:
"We're about a year away from being in the studio. It's not my fault the maggots don't pay attention. We make an album, we tour for three years, we take two years off.
"It got a little screwed up after [2008's] 'All Hope Is Gone,' because Paul passed away, so we took time off, took time with our kids, and toured for a couple of years until it felt right. Then when it felt right, Joey took off.
"I'll be in the studio in November 2018. There's a plethora of sh*t written. I don't wanna be told by a label when to write, like some f*cking Cheerio. I wanna write because I write.
"I've made people so much f*cking money – pay for the studio. Give me this engineer, give me this producer. It's just jamming, but I've never heard music like this, that we're doing right now.
"I'll be 50 by the time it comes out. I'll be touring when I'm 50, they'll throw me a birthday party! So where I'm at these days, I'm like, 'Maybe make it the last one.'"
Asked to clarify that last bit, Clown said:
"Who knows? I don't have to explain myself to anyone. I'm not gonna be like, 'Farewell tour!' then come back. Never say those words to fans – you have to come back if you say that. For me it's like, I'm going to go fishing indefinitely."