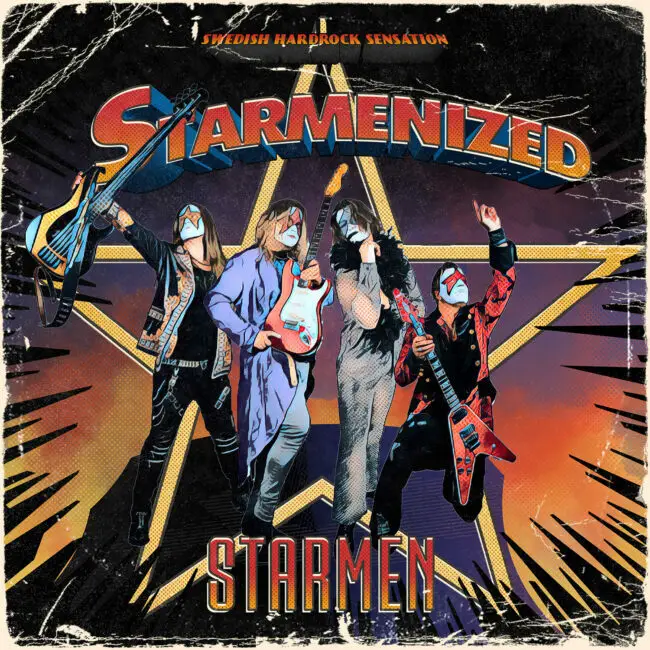 It's only here with Metal Addicts that my dear child of the night can go from a Brutal Death Metal band to a Hard and Heavy band with so many elements of Kiss. It's the only page where metalheads can vary a choice among all Metal subgenres. Truth be told, it's the only place where from Glam to Black Metal are together under the same Metal umbrella. Such variety is hard to find these days with the honesty Metal Addicts offers you, my dear child of the night.
To my dear fan understands where we're stepping, Starmen were formed in 2018 and was from the beginning just a fun idea, to make a record to all the heroes from the 70's and 80's classic rock-scene. Part of the tribute to the old rock icons was to create a grand gimmick around the band, were each member has their own color and wears a makeup-star on their face.
Here we've got Starmen with their newest full-length "Starmenized" an album that goes a bit far from the band's original intent we reviewed in 2021 with their third album "By the Grace of Rock'n'Roll" which was a touching homage to the hottest band in the world: K I S S. "Starmenized" showcases band with some more influences from the 1970's. In this very particular case, if my dear fan starts the listining by album warmer "Liar" is Deep Purple from "Burn" and "Stormbringer," the albums with vocalist David Coverdale and bassist Glenn Hughes. I say these albums because they are game changers into the band's sonancy. "Starmenized" has the same Soul music influences "Burn" and "Stormbringer" had. On the other hand, it's very difficult not to pay attention to Red Starman .a.ka. Kristian Hermanson's tone of voice which addresses right to no one but Kiss' Paul Stanley. The problem is that tracks as "Renegade Jenny" deliver a totally different impression as it has some electronic effects addressing to Kiss' early 1980 era with a different tone of voice. However, following track "Just a Stranger" gets back to the band's original sound.
"Starmenized" showcases a band more concerned to show their 1970's and early 1980's roots beyond Kiss. But, as the apple never falls far from the apple tree, the album goes back and forth bouncing from their roots to other influences. Just pay attention to the Ace Frehley inspired guitars of "Word Up (We All Bleed Red)." Well, as far as I'm concerned, it's an album full of fun.
Starmen "Starmenized" will be released on September 08th via Melodic Passion.
Track Listing:
Liar
Rockstar
Tears Never Dry
I Die for You
Radioactive
Black Moon Rising
Renegade Jenny
Just a Stranger
Word Up (We All Bleed Red)
Starmenized
Watch "Rockstar" official music video here:
1834
.