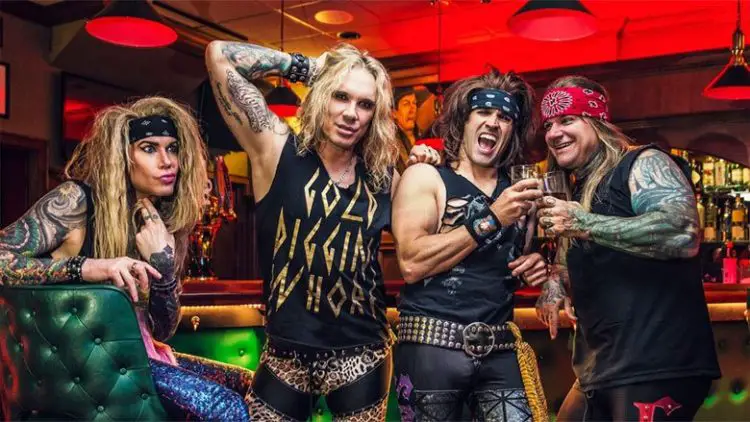 As the music and hairspray world was recently rocked by the shocking news of the departure of STEEL PANTHER's original bassist Lexxi Foxx, the California glam metal jokesters have been endlessly reviewing submissions from their global search for a replacement.
Singer Michael Starr, guitarist Satchel and drummer Stix Zadinia have been watching over 1669 individuals submit their videos playing various songs from the band's catalog as well as explaining why they would be the perfect replacement. The collective brain trust of metal's sexiest trio has narrowed the submissions down to the final 32.
In a March Madness bracket-style competition, the band is reaching out to the public to help narrow them down to the final eight. Each day, two new finalists will be posted at here and the public will have a chance to vote on who they think should be the band's new bassist. Early entries by Rikki Dazzle and Rikki Thrash have made it to the finals and both musicians will perform live with the band during their December shows.
"Two finalists are in, eight more to be selected," band states. "That's where you come in! Welcome to 'The Road To The Road' tournament! From over 1669 submissions, we've narrowed the field to the top 32 and we want YOU to help us determine the top 10! Every day between now and December 24th, we're featuring two bassists as we work our way through the bracket below. All you have to do is check out the videos and vote for your favorites! Let the games BEGIN!!"
STEEL PANTHER announced Lexxi's departure from the band in July, writing at the time: "The great pandemic of 2020-2037 has affected all of us. For some though, it has opened doors of opportunity and been a catalyst to seek out one's true calling in life. This is Lexxi's story. He started his side business, "Sexy Lexxi's Prettiest Pets," to bring in money for Botox during the lockdown. But something miraculous happened. He realized that his love for making pets pretty was greater than his love for being pretty himself. Lexxi discovered a greater love. Possibly, the greatest love of all.