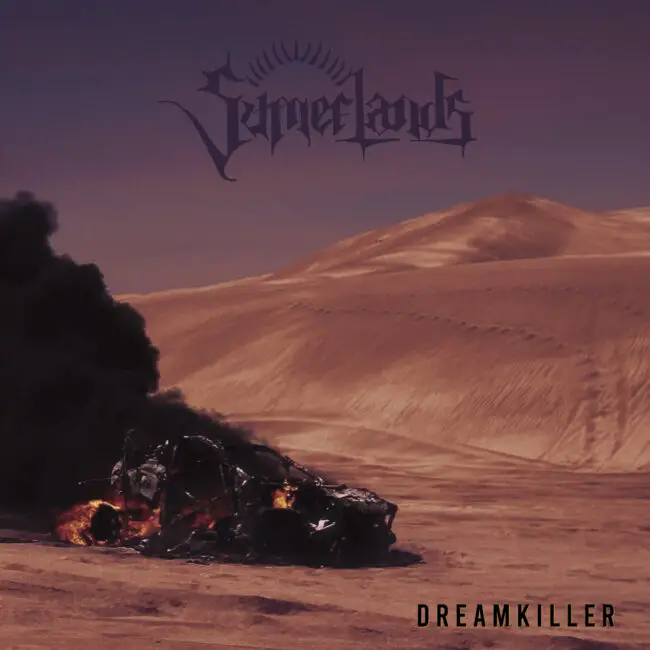 Some fans may not believe in me when I say record companies agree on release dates. For instance, for three week's times I'll have very few bands to release and, boom, on September 30th I'll have zillions. But they don't agree only on the dates but also on the style of the bands. It seems like all the bands of the same style are agreed to be released on the same date. Or at least the ones with some resemblance. That's what I noticed after six years on this vital industry. That's also what I noticed around this week with the previous review and this Sumerlands with "Dreamkiller." On the one hand, the previous was an AOR/Rock oriented band with lots of melody on vocals and some sharp guitars. On the other hand, this Sumerlands with "Dreamkiller" with the same melodic vocals but with a Power Metal grip. If my dear fan think of Yngwie Malsmteen albums, so there's a perfect match. However, even more melodic and without the classical music grip. Well, as a colateral damage – oh, this is good colateral damage – sometimes the band sounds as Ritchie Blackmore's Rainbow especially around the Joe Linn Turner era. "The Savior's Lie" is here to prove me right. Or not. It depends on what my dear fan will find of the track. Though it's never too late to agree with me. Pay real close attention to the keyboards at the end of the song.
Sumerlands strike with lots of melody in the guitars and on the vocals. I said melody, not sugar. These are really different things. Some melody never hurts while lots of sugar spoil the taste of the songs. Sugar has a right dose. Not more, not less. Take the grand finale "Death to Mercy" where melody combines with a great guitar riffing, though worn out, and the outcome is really pleasant. Predictable as all Power Metal, but very pleasant. One more song that my dear fan will address to Yngwie Malsmteen. Even the guitar solos will remind the guy a little bit as the guitarists try to play to reach the speed of light. As it ius usual, welcoming track "Twilight Points the Way" is a correct invitation card showing everything "Dreamkiller" has tho offer the fan. Interesting chorus and choice of words. This time unpredictable.
Paying more attention to the guitar work in the album it's possible to catch all the efforts Sumerlands had on production and guitar choices. "Dreamkiller" is very produced and the guitars acquire that majestic overtone making them very prominent. Dying to listen to the alive effect of tracks as "Heavens Above" and its shinning guitar main riff. That's where the AOR traits meets the Power Metal traits.
Sumerlands "Dreamkiller" will be released on September 16th via Relapse Records.
Track Listing:
Twilight Points the Way
Heavens Above
Dreamkiller
Night Ride
Edge of the Knife
Face of a Storm
The Savior's Lie
Death to Mercy
Watch "Dreamkiller" official music video here: