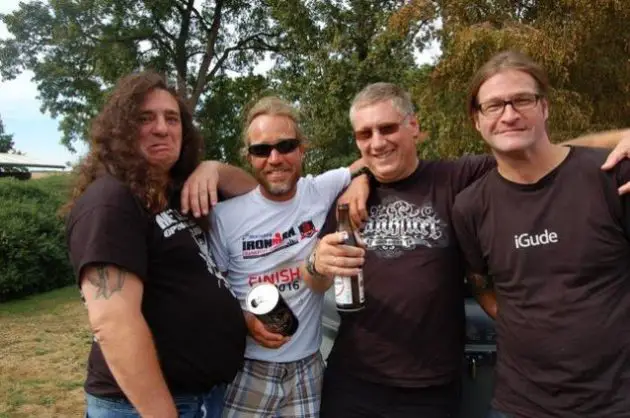 Three months ago, the German thrash metal legends TANKARD played the Eintracht Frankfurt club anthem "Schwarz-weiß wie Schnee" in front of over 30.000 enthusiastic Frankfurt supporters, a short time before the kick-off of the German cup final between Eintracht Frankfurt and Borussia Dortmund at Berlin's Olympic Stadium.
The band released the video clip of that performance. The clip was captured by the band, but also from many fans in the stadium. You can check it out below.
Mastermind Gerre states:
"What an unforgettable event! We wanted those three and a half minutes to last forever! Simply amazing and incredible! This was once again one for the books… We tried with both, clip and CD, to truly capture a part of these epic moments and we hope that not only football fans from Frankfurt enjoy them!"
The Tracklisting of the new EP:
1. Schwarz-weiß wie Schnee (Studioversion 2017)
2. Forza SGE
3. Schwarz-weiß wie Schnee (1999er Version)
4. One Foot in The Grave
5. A Girl Called Cerveza
6. (Empty) Tankard (live, 2016)
TANKARD released their highly praised 17th studio album "One Foot In The Grave" in June via Nuclear Blast Records. With the enormous support of their loyal fan base, the band entered the German album Charts at #26, which marks the highest entry in the band's career.