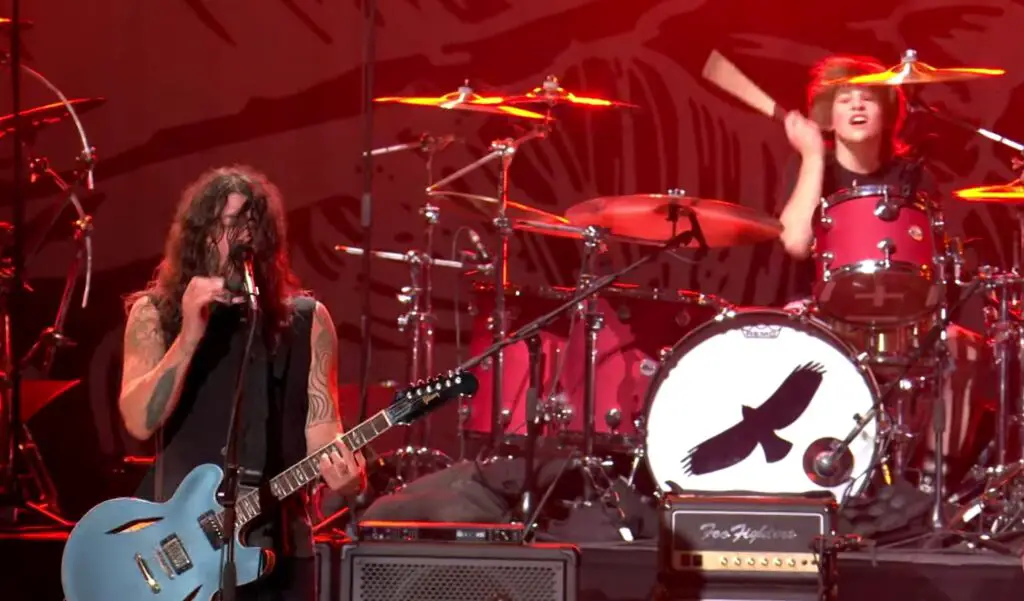 Yesterday, September 3, London's Wembley Arena saw the first tribute show to the late FOO FIGHTERS drummer Taylor Hawkins, including multiple performances from an all-star line-up.
The London event featured appearances by AC/DC's Brian Johnson, METALLICA's Lars Ulrich, BLINK-182's Travis Barker, Kesha, Liam Gallagher, QUEENS OF THE STONE AGE's Josh Homme, QUEEN's Brian May and Roger Taylor, Wolfgang Van Halen, THE PRETENDERS' Chrissie Hynde and many more.
One of the highlights of the show was when Hawkins' 16-year-old son Shane joined the FOO FIGHTERS onstage for an intense rendition of the band's 1997 hit "My Hero."
Shane took his place behind the drum kit and helped Grohl and co. to deliver a flawless performance of the Foo's classic song that would surely make Taylor proud.
At the start of today's concert, the surviving members of FOO FIGHTERS stepped out on stage to address the crowd and kick off the event. Frontman Dave Grohl said: "Ladies and gentlemen, tonight we've gathered here to celebrate the life, the music and the love of our dear friend, our bandmate, our brother Taylor Hawkins.
"For those of you who knew him personally, you know that no one else could make you smile or laugh or dance or sing like he could. And for those of you admired him from afar, I'm sure you've all felt the same thing.
"So, tonight we've gathered with family and his closest friends, his musical heroes and greatest inspirations to bring you a gigantic f**king night for a gigantic f**king person.
"So, sing and dance and laugh and cry and f**king scream and make some f**king noise so he can hear us right now. 'Cause you know what? It's gonna be a loooong f**king night, right?
"Are you ready? Are you ready? Are you f**king ready? Ladies and gentlemen, Mr. Liam Gallagher."
Hawkins was found dead on March 25 at the Four Seasons Casa Medina hotel in Bogota, Colombia while FOO FIGHTERS were on tour.
An official cause of death for Hawkins hasn't yet been released, but Colombia's attorney general's office released a preliminary toxicology report, saying that medical examiners found evidence of 10 types of substances in Hawkins's body, including opioids, benzodiazepines, marij*ana and antidepressants.