A Reddit user has posted a screenshot of an e-mail conversation with his son's band director, who allows the student to miss band practice for a TOOL show.
He wrote: "Taking my 12 year old son to see TOOL in Houston. My wife emailed his band director to make sure he wouldn't miss any practice or rehearsal the next day."
To their delight, the response was positive, and director even admits his jealous!
"TOOL is a GOOD reason to miss it. My only response, take me with you guys!" he responded.
"I am super jealous that he will have that opportunity and I will not punish him for missing for TOOL."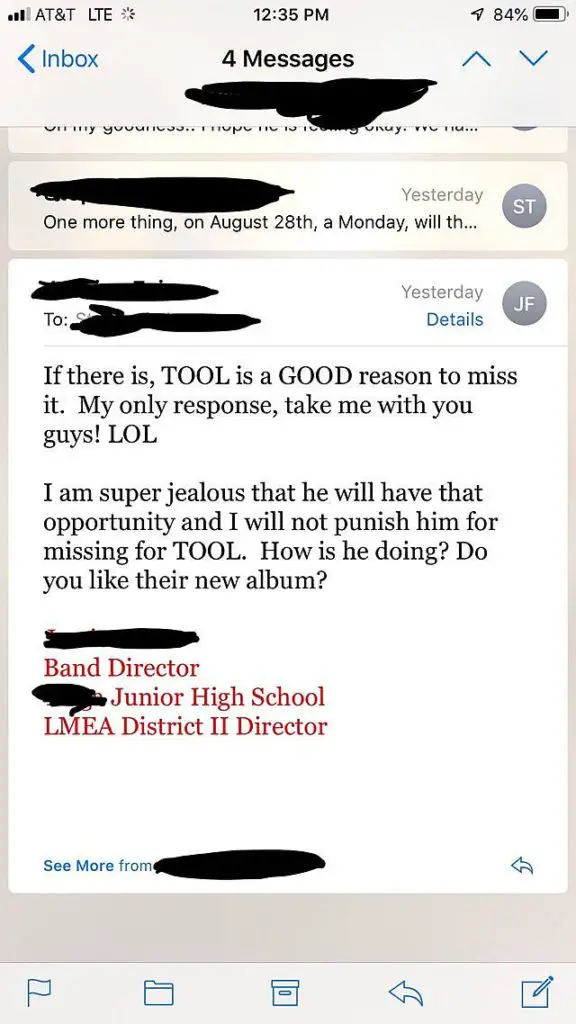 In a recent interview with BBC Radio 1's Rock Show With Daniel P Carter, TOOL frontman Maynard James Keenan talked about the new album delay and finally realizing it's the time to get something done.
"I think a lot of it [was] just that age where you want it to be right and we've had some success in the past and the fear of this thing coming out and not being accepted — the fear that it's not as good as it can be — that can be detrimentally crippling," Maynard said.
"Probably in if I had to 'psychology 101' [it], I would have to say, 'Well, yeah, that's why it would take 13 years to write something, because you're paranoid that it's not gonna be the best that it can be and then you second guess every single step that you make,' when it was probably good enough — I shouldn't say good enough — it was fantastic eight years ago.
He continued: "But then the crippling second guessing of yourself sets in, and that psychology and that spiral you get in, it can be extremely daunting. And you can actually not even feel it happening.
"All of a sudden you wake up and it's 13 years later. The hard part is accepting the fact that maybe you're not as important as you think you are and you should probably just get on with it."
In a recent issue of Revolver Magazine, TOOL members talked about the idea behind the band's long-awaited fifth studio album, Fear Inoculum.
Guitarist Adam Jones said (via ThePRP): "That has to do with getting older, too. Things like, 'I'm gonna wear socks with sandals. I don't give a f*ck what people think. I'm just gonna be comfortable.' [Laughs] So it's about the little things in life. It's making those choices that are important to you and moving on and growing.
"There's a little bit of Frank Herbert's 'Dune' in that, so I'm into it. I'm so excited, for this new record. The songs are very long, but they're like movements. It's like two or three songs in one, but they relate. They flow. So I don't know. We'll see how it goes. But I'm ecstatic."
Drummer Danny Carey chimed in: "Well, I suppose the main overview of it is getting older and more comfortable with yourself. That seems to be the result. I mean, it's called Fear Inoculum, so it's kind of like being able to choose your fears and making them work for you rather than actually living in fear.
"You grow through that, and as you get older you kinda don't give a sh*t. I mean, I'm not afraid of anything – or what people would think of my playing. It's kind of an evolution in that way, getting through and getting over criticisms and our fears of various kinds, I suppose."
Then singer Maynard James Keenan also shared a few comments regarding the album's general themes: "I can give you some broad strokes, but I don't want to ruin the experience for you. I feel like that's always an individual's right to process things in the way they wanna process them, and I wouldn't want to take that from you.
"But I can give you pieces. Again, it goes back to experience: I feel like this is [about] wisdom through age, through experience.
"Hopefully through aging, you do find wisdom in some of the things you've encountered. Learning from your mistakes, learning from your successes.
"So if anything is a broad stroke of this album, it would be embracing where we are right now, acknowledging where we've come from and some of the things we've grown through."
Maynard added: "There's gonna be a lot of people who might not get this album because it does take engagement. If you don't have the patience for that, you're probably not gonna get this album."
TOOL's latest album, Fear Inoculum, was released on August 30, 2019, through Tool Dissectional, Volcano Entertainment, and RCA Records. It is the band's first album in thirteen years, due to creative, personal, and legal issues band members encountered since the release of 10,000 Days. The album was released to critical acclaim, with reviewers agreeing that the band had successfully refined their established sound.