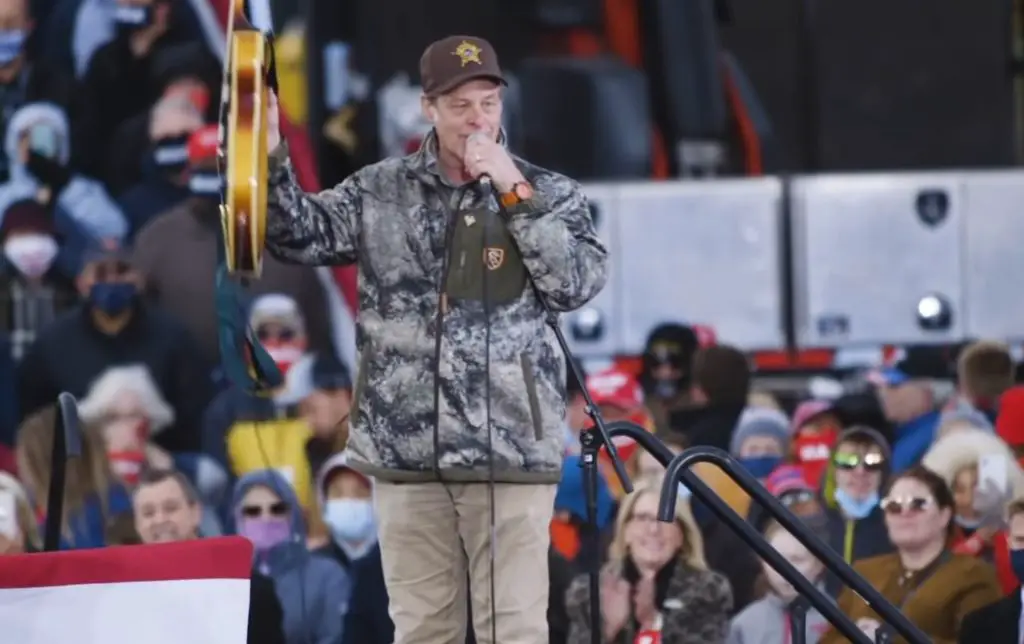 Ted Nugent played "The Star-Spangled Banner" on Saturday, October 17 at the Muskegon County Airport in Muskegon, Michigan prior to the arrival of President Donald Trump.
Nugent addressed the crowd: "God bless real Michigan. God bless real America. God bless the greatest president in our lifetime, Donald Trump. We will make America great again, and we will make Michigan great again, won't we?"
In a recent interview with "America This Week With Eric Bolling," Ted Nugent once again praised U.S. President Donald Trump, saying that he is not a typical "power-abusing criminal, punk-a—s politician."
"I see that Donald J. Trump, hallelujah, is not an entrenched, status quo, power-abusing, criminal, punk-a—s politician. He's a hellraiser, working-hard, playing-hard guy that got us back to God, family, country, work ethic, independence — you know, the man in the arena, Nugent said (see video below.
"You bust your a—s to be in the asset column, earn your own way, live within your means, save for a rainy day — all that radical, extreme stuff. And he's my guy — I really love this guy. He came just in a nick of time. And I'm speaking for all my huntin' buddies, all my musicians, my band, my crew, my family, my neighbors, the cops that I train with, the military heroes that I hunt with — I'm speaking for the heart and soul of this country when I talk like this."