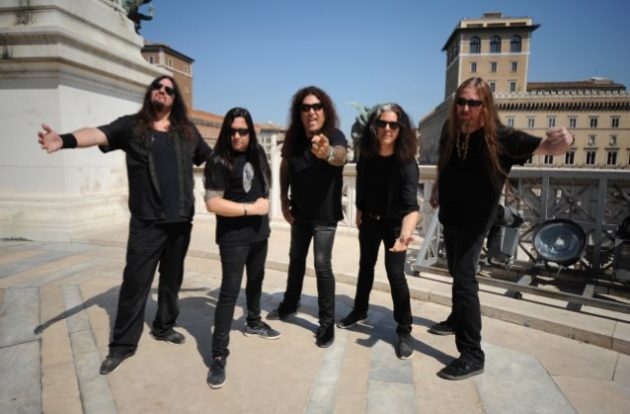 TESTAMENT is "almost ready" to enter the studio to begin recording the follow-up to 2016's "Brotherhood Of The Snake" album.
Guitarist Eric Peterson posted an update on the new disc's songwriting sessions Tuesday night, sharing a photo of him with fellow TESTAMENT guitarist Alex Skolnick, along with the following caption: "Great last couple of days with @alexskolnick putting last touches of riffs together and collaborating on ultra heavy riffage and some surprising melodic acoustics… almost ready to start recording!"
Drummer Gene Hoglan recently told Agoraphobic News that the band's upcoming album is shaping up to "a killer, kick-ass TESTAMENT record. Everybody's gonna enjoy it," he said. "TESTAMENT has a good grasp on what TESTAMENT does, so it's gonna be just another kick-ass TESTAMENT record. Totally."
Peterson said in an interview with Guitar World that he hoped TESTAMENT's next album would be a more collaborative effort than "Brotherhood Of The Snake", which saw him writing all the music in about three months and then e-mailing the songs to his bandmates.
For his part, Skolnick told Heavy New York that TESTAMENT's new studio album, which is tentatively due later this year, will not necessarily sound like a direct follow-up to "Brotherhood Of The Snake".
"I think anytime we make a record, we don't think about the last record," he said. "That's done. Actually, the last thing we wanna be influenced by is the previous record. And I think it's pretty safe to say there's never been two records in a row where they're really that much alike. We don't have a 'period.' Sometimes bands release a pair or a series of records where there's a big similarity. We've never done that. So I think it's gonna be starting fresh. And we'll see where it goes… It's not pre-planned."
Last September, singer Chuck Billy told Inquisitr that TESTAMENT's next record would likely include a ballad. "We haven't done a ballad in 20-something years probably," he said. "I mean, a full-on ballad. 'Born In A Rut', off the other one ['Brotherhood Of The Snake'], it's soft and has melody, but it's not really a true ballad."
"Brotherhood Of The Snake" was recorded under the watchful eyes of producer Juan Urteaga (EXODUS, HEATHEN, MACHINE HEAD), Peterson and Billy and was mixed and mastered by Andy Sneap.