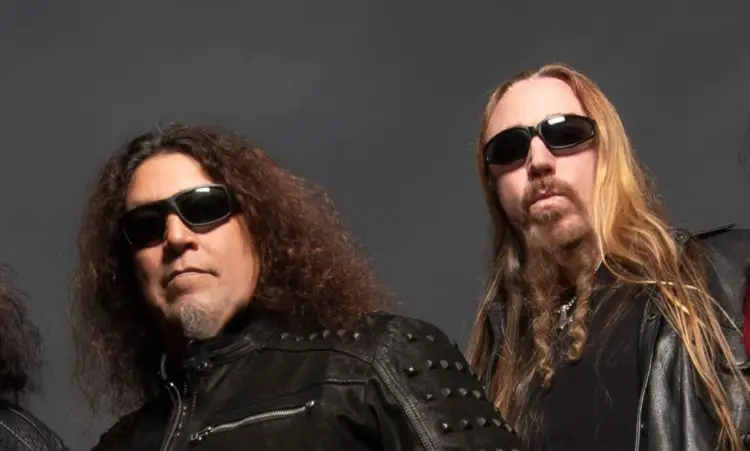 During recent appearance on SiriusXM's "Trunk Nation With Eddie Trunk," TESTAMENT singer Chuck Billy discussed Steve DiGiorgio's involvement in MEGADETH.
The longtime TESTAMENT bassist temporarily stepped in to record the bass tracks on MEGADETH's latest album, The Sick, The Dying… And The Dead!, in the summer of 2021, shortly after the exit of David Ellefson. With the kick-off of MEGADETH's recent tour, MEGADETH hired James LoMenzo as permanent bass player.
When asked if he was concerned that TESTAMENT might lose its bass player to MEGADETH, Chuck responded: "Well, of course. We're definitely always concerned that… We've had so many lineup changes, it wouldn't faze us. But Steve's an important part of the band; he was a great addition when he came back. And we went through a lot together personally. So, of course, when you get the opportunity to play on it, and I'm sure they were courting him to join the band. I'm glad he made the decision to stay with us."
"I think his intentions always were just, 'I'll go record the record,' 'cause that's what Steve does — he plays on a lot of people's albums," Chuck continued. "So we kind of took it as that at first. And I thought, 'That's what he does.' 'Go for it, Steve. Just don't leave.' [Laughs] And I'm sure they asked him to join the band. And he decided, 'You know, I've been with my bros here for a long time. I'm gonna stick with my bros.'"
Chuck also said that MEGADETH drummer Dirk Verbeuren "had a lot of influence getting Steve" the MEGADETH recording gig because Dirk is "really good friends with Steve and they've done a lot of projects together."
However, Billy added that he doesn't "personally think Steve would have lasted in the band. I know Steve very well, and I know Dave [Mustaine, MEGADETH leader] very well, and I'm sure the two worlds would have collided," Chuck said with a laugh.
In a recent interview with Loudwire, Mustaine explained on why he didn't offer Steve Di Giorgio a place in the band, saying: "Both of them are really fun people to be around. Although I didn't know Steve Di Giorgio, as much as I know James LoMenzo, I found him to be just as enjoyable to be around as James is.
"That period that the band and everybody associated with us went through was a little touchy," Mustaine continued. "We wanted to do the right thing. Trying to find the replacement for anybody wasn't the right thing to do at the time because nobody really knew all the facts and we certainly didn't want to poach anybody. TESTAMENT are my friends.
"As great as Steve is, I remember what it felt like when we [METALLICA] went up and poached Cliff [Burton] from TRAUMA. Granted the band TRAUMA wasn't that good, there were still guys in the band and their lives were changed when that happened. You've got to ask yourself, 'Did he jump or was he pushed?' I wanted to make sure if I was going to hire somebody that I wasn't stealing him from anybody."