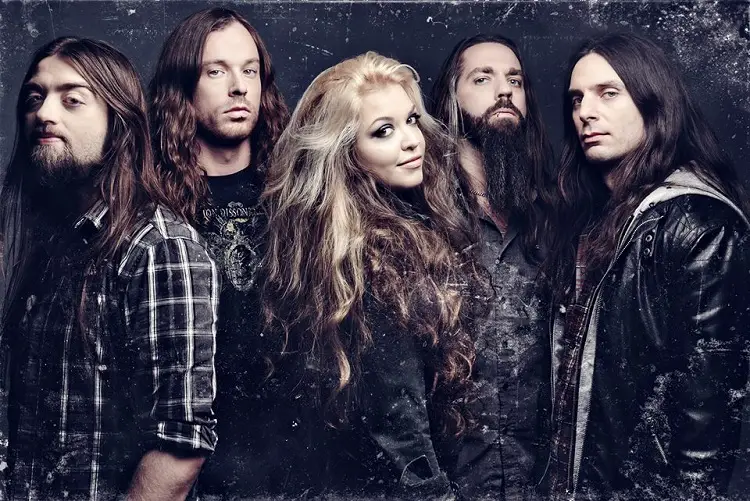 THE AGONIST released their latest album and Napalm Records debut "Five" this past September.  As the band prepares to head out on the first North American tour in support of "Five" they have completed work on a lyric video for the song "The Man Who Fell To Earth".  The video can be seen below.
"When the news broke this year of David Bowie's death it hit me pretty hard. Especially because of how his last album Blackstar turned into more than just a new record but a swan song of an artist still breaking boundaries even today. I had an instrumental that I knew was outside the box for THE AGONIST and felt I could make this a Bowie dedication. I used a lyric writing method called "cut-ups" that I had heard Bowie himself used. It is when you find books or magazines surrounding the topic you are writing about and cut out individual words, and rearrange them until it starts to form a story. I used album reviews of his last album that were written before it was known he was dying. In the end the result comes out as a eulogy to be read at his funeral. I'm really happy with the dark vibe we achieved in studio with this one", says guitarist Danny Marino of the video.
The AGONIST's tour begins today, November 4th in Quebec City, QC and runs through December 3rd in Worcester, MA.  A complete list of dates can be found below.
Five, is available in various formats and exclusive bundle packages at The Napalm Records Webstore.
"Five" was produced by Mike Plotnikoff at West Valley Studios.  Mike has engineered and produced such artists as Buckcherry, Flyleaf, My Chemical Romance, Apocalyptica, P.O.D, Halestorm, Skillet, Seether, P.O.D. Three Days Grace, Aerosmith, and Kiss
Maor Appelbaum handled the mastering at Maor Appelbaum Mastering studios.  Maor has had the pleasure of mastering recordings for major international acts such as: Faith No More, Yes, Starset, Ill Nino, Dokken, Fates Warning, Sepultura, Yngwie Malmsteen, Armored Saint, Lita Ford, Butcher Babies, and more.
THE AGONIST W/ Epica and Fleshgod Apocalypse:
11/4: Quebec City, QC @ Imperial Theater
11/5: Montreal, QC @ Corona
11/6: Toronto, ON @ Phoenix Concert Hall
THE AGONIST W/Arkona, Epica and Fleshgod Apocalypse:
11/7: Indianapolis, IN @ Emerson Theater*
11/8: Chicago, IL @ Concord Music Hall
11/9: Minneapolis. MN @ Cabooze
11/10: Winnipeg, MB @ Park Theatre*
11/11: Saskatoon, SK @ Saskatoon Event Center
11/12: Calgary, AB @ Marquee
11/13: Edmonton, AB @ The Ranch
11/15: Vancouver, BC @ Vogue Theatre
11/16: Seattle, WA @ Studio 7
11/17: Portland, OR @ Bossanova Lounge*
11/18: San Francisco, CA @ Social Hall
11/19: Los Angeles, CA @ The Regent
11/20: Las Vegas, NV @ Vinyl at Hard Rock Hotel
11/21: Salt Lake City, UT @ Metro Bar*
11/22: Denver, CO @ Summit Music Hall
11/23: Lawrence, KS @ Granada Theater
11/25: Dallas. TX @ Gas Monkey Live
11/26: Austin, TX @ Empire Control Room
11/27: New Orleans, LA @ Siberia*
11/28: St. Petersburg, FL @ State Theater
11/29: Atlanta, GA @ Masquerade
11/30: Raleigh, NC @ King's*
12/1: Baltimore, MD @ Soundstage
12/2: New York, NY @ Webster Hall
12/3: Worcester, MA @ The Palladium
*No Epica on these dates