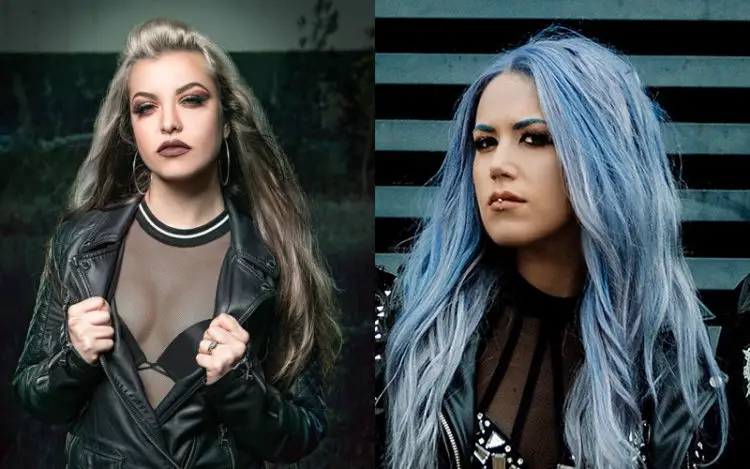 THE AGONIST singer Vicky Psarakis says that she is open to having a conversation with band's previous singer, Alissa White-Gluz, less than three months after she accused the current ARCH ENEMY frontwoman of trying to prevent the release of THE AGONIST's latest album.
In September, Psarakis gave an interview to Rock Confidential, in which she claimed that ARCH ENEMY frontwoman, Alissa White-Gluz had been trying to hold band back.
Vicky addressed her issues with Alissa during a recent appearance on "Vox&Hops."
Speaking about the original Rock Confidential interview which resulted in her opening up for the first time about Alissa's alleged attempts to sabotage her former band, she said: "When that happened, in the back of my head, I kind of let it happen. And it was simply because — you know how it is when there's an album release and the interviews are scheduled back to back.
"So there were some days where I had four or five interviews in a row," Vicky continued. "And lot of times, those questions coincided — same questions over and over again. So I reached, I guess, my boiling point, where I was, like, 'You know what? This is it.' And I kind of let it out. And it did kind of get blown out of proportion. But I kind of knew it was gonna happen. I didn't expect the full extent of what happened, to be honest, and it wasn't my intention. It was just more, like, I've been in the band for five years.
"Every single time anything remotely close to that is brought up, I just shut down and don't say anything or avoid or redirect. And I just reached that point where it's, like, 'I'm done.' And I just let it out. And in the moment, it felt really good. And it actually felt good afterwards too; it just felt like, 'Ah. I can breathe again.'
"And, of course, I got asked [about it] afterwards [by] other interviewers, just like you're asking me now, I guess. But it felt good in that I didn't feel that need anymore to talk about it anymore. It's, like, well, it's out there. Anyone can go and read it, if they want."
When asked whether she would take Alissa up on the offer to have a phone conversation and put everything to rest, Vicky responded: "Sure. If she really wanted to, I'm here… It's always been a bit weird for me in that, obviously, they have some beef. They were in a band together for 10 years or so. And not anymore, but I was 'the new girl'… "
When interviewer asked if Alissa could possibly join THE AGONIST on stage one day, she replied: "I'm sure it would be appreciated [by the fans]. On my end, I'm totally okay.
"Like I said, it was just a bit of a weird place for me, because I had nothing to do with this. I'm just the new person — or was the new person in the band. And if it wasn't me, it would be someone else. So I felt a bit, like, 'Why am I caught up in the middle of all this?' So, obviously, if something good were to happen, why not let it happen?"