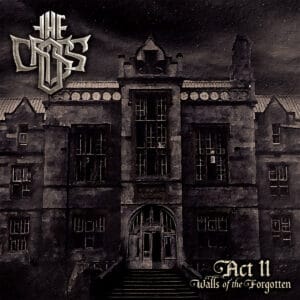 Pioneer bands are easy to recognize so I thought. Their sonancy is rather different from bands that got in the wave years later. Bottomline that style common traits are usually mixed with others. In general, the ones they came from because some time is required to crystalize all the traits of the new style. The Cross are one of the unsung pioneers of Doom Metal since the band was formed in 1990. Even though all those years "Act II: Walls of the Forgotten" is only their second full-length – yeah, my dear child of the night, life isn't that easy for some really underground bands. From where I'm standing this album has a lot to do with other unsung Doom Metal pioneers Cirith Ungol even though I don't consider the Ungol pure Doom Metal. However, I guess the band holds more similarities with Candlemass. Maybe to say that The Cross is a hybrid between both bands is no insanity.
Many Doom Metal bands are tributes to Black Sabbath let's say the truth. Most of them just relive the sonancy Black Sabbath had in the 1970s mostly from their classical era. The Cross, as I aforementioned, don't. They manage to go farther. They managed to reach other horizons with their music. The influence of both bands I quoted above can be felt directly in their music. Vocals and atittude from Cirith Ungol plus some guitars, the shoegazed tempo and long tunes from Candlemass. That's the combination plus some oriental music influences here and there. The Cross added to their music more melodic guitar phrasing and licks which give them their personality. As some of their peers there is something of liturgical around tracks as "Ouroboros" and all the despair around it. The guitars give the liturgical mood here and they make a hell of a difference into the bands music. I dare to say that they give the band its personality.
Though "Act II: Walls of the Forgotten" begins with "Behind the Stone Gate" whose initial guitars sound a little standard, the album has a lot to deliver the fan. Soon the guitars phrases change into tonal guitar chords which give that extra punch plus the slow and extra heavy drumming. Things get a little different with the vocals which addresses to the mighty Cirith Ungol chants. Nine minutes of pure magic and mesmerizing music. Slowly the fan will get into the atmosphere The Cross created and into the album. "Act II: Walls of the Forgotten" isn't an album to be forgotten. On the opposite, it's an album to be cherished.
The Cross "Act II: Walls of the Forgotten" was released on May 27th via Pitch Black Records.
Track Listing:
Behind the Stone Gate
Walls of the the Forgotten
Beyond the Eyes of Seth
Sonnestein Castle
Umbral
Ouroboros
Watch "Behind the Stone Gate" official music video here: