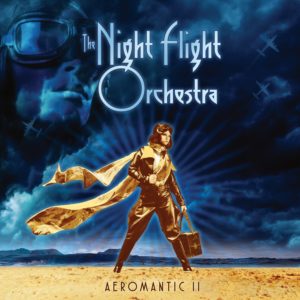 What to do when a band you should expect so much doesn't meet your expectations?
Well, between sit down and cry or write a review I decided for the second. So, here we go for it.
First of all a few words about the band. It's a few words really because, in fact, it's the first time I have the oportunity to listen to it. I understand the band is a project of Soilwork, Arch Enemy and Mean Streak members. What I really can't tell is if this is serious. But whatever…
The Night Flight Orchestra is a band that I've heard a lot about them. I mean, their name rings a bell, you know what I'm saying, however, I have never heard anything of them. "Aeromantic II" is my first, and the first time we never forget, isn't it my fans?
Ok, then, now some words about "Aeromantic II." My dear fan might remember that sometimes I compare the kind of music herein as 1980's B movies of gangs or schools. The soudntrack of "Streets of Fire" is a perfect example especially when "Burn For Me" comes and takes its place. A song with lots of adrenaline and melody. It's exactly the music my fan will find it here. Or better yet, picture some early Bon Jovi before "Slippery When Wet" era or Van Halen's Sammy Hagar era. Pop Metal is the right word for it, I guess, if I were to label them. From where I'm standing there is a serious competition between the guitar and the keyboard and sometimes the keyboard take  the spoils. For instance, "Chardonnay Nights" sounds a lot like what late 1980's disco inspired Blondie would do. Here the urge isn't to headbang, it's to dance with the swinging funky bass lines. I can't help it to compare "You Belong To The Night" with Rolling Stones "Tatto You" or "Emotional Rescue" when even the band handed a hand to the disco fever.
It seems to me that The Night Flight Orchestra had an epiphany while listening to the albums and decided to write all the tracks in "Aeromantic II." Just a thought though. Of course I may be wrong. It is clear to me that the main idea of "Aeromantic II" was to make a join of Metal music with some AOR and, why not, dance with it. And here comes the disco fever. Listening to tracks as "Amber Through a Window" may arise some thoughts like the band gathering together and giving some thought about making it more danceable. That's the spirit. I used to like that kind of sound a lot in my teens years before I discovered that Extreme Metal was much more meaninful to me. By the way, extreme metaller, please take my advise, stay miles away from "Aeromantic II."
For fans only.
The Night Flight Orchestra "Aeromantic II" will be released on September 03rd via Nuclear Blast Records.
Track Listing:
Violent Indigo
Midnight Marvelous
How Long
Burn for Me
Chardonnay Nights
Change
Amber Through a Window
I Will Try
You Belong to the Night
Zodiac
White Jeans
Moonlit Skies
Watch "Chardonnay Nights" official video here: