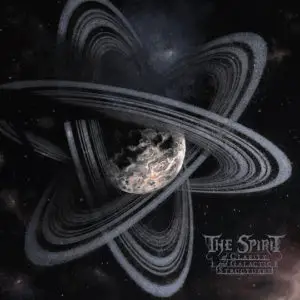 This album tittle may deceive my dear fan because it sounds as if it would be grand and pompous, but in reality it's not. On the other face of the coin, it's not simple either. It's just the face The Spirit desire to show to the fans as we noticed by their 2020's album "Cosmic Terror" and 2017's "Sounds From The Vortex" whose space and extraterrestrial themes are a part of the band's thematic. Add to that a consistent, well produced, and very personal Death Metal and the putcome will be "Of Clarity and Galactic Structures" an album that has the tittle of a dissertation or a doctorade thesis in Astronomy.
"Of Clarity and Galactic Structures" has the elements that could make it be labeled a Melodic Death Metal album. Instrumental passages use lots of melodic features and sometimes get very near a progressive grip as in the last, but not least track, "Laniakea" with its more than five minutes of pure instrumental delight. The album doesn't have a clear technical grip to be considered Technical Death Metal though the musicianship quality is very high here. Id rather say that The Spirit go even more progressive in this album than in its previous to the extent to be fair to say that the album can be considered Progressive Death Metal – a label that I gues expresses better all the band does here. Opening track starts aggressive and right to it but as the song progresses more and more elements are being added to give it The Spirit's today's facete. In its seven minutes the band showcases all the prowness and great guitar melodies they are capable of. Pay attention to the killer instrumental passage on the sixth minute. My guess is that tittle track "Of Clarity and Galactic Structures" gets all the band's intent in this album. Those instrumental passages are very inspired and flawlessly performed.
I guess The Spirit are a band that embody all the spirit of today's Extreme Metal – no pun intended. It's just that I couldn't find a better word to express the feeling where musical prowness isn't everything but it takes an important role to the music. Instrumental prowness without heart means nothing and The Spirit with "Of Clarity and Galactic Structures" showed us clearly that. It's a band that I learned to be a fan with those three albums I reviewed here. A very rare case of aggression a finesse walking hand by hand. If you my dear fan don't believe me go right to "Repression" to get what I'm saying. The perfect match of pure Extreme Metal aggression with the finesse of Progressive Metal.
The Spirit "Of Clarity and Galactic Structures" was released on April 01st via AOP Records.
Track Listing:
Of Clarity and Galactic Structures
The Climax of Dejection
Repression
Celestial Fire
Transition
Timbre of Infinity
Arcane Wanderer
Laniakea
Watch "Laniakea" official music video here: