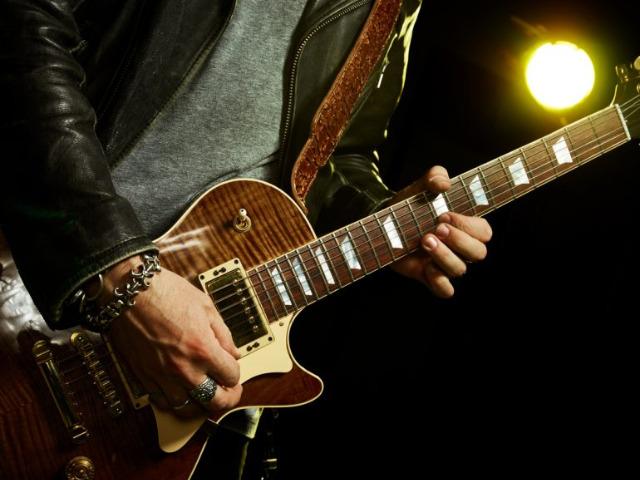 After gathering over 126,000 votes from their readers, the folks from Total Guitar Magazine have unveiled a series of lists of best guitarists of 2018 in a variety of categories.
These include best metal guitarists, best rock guitarists, best blues guitarists, and more.
The magazine pointed out:
"The nominees were what we considered to be the guitarists and guitar gear that have excelled in 2018."
You can check out the rundowns below, check the source for additional commentary.
Top 10 best rock guitarists of 2018 (according to Total Guitar readers):
10. Jerry Cantrell, William DuVall (Alice in Chains)
9. Lzzy Hale, Joe Hottinger (Halestorm)
8. Chris Robertson, Ben Wells (Black Stone Cherry)
7. Tom Morello
6. Justin Hawkins, Dan Hawkins (The Darkness)
5. Slash
4. Joe Satriani
3. Paul Gilbert
2. Richie Kotzen
1. Mark Tremonti, Myles Kennedy (Alter Bridge)
Top 10 best metal guitarists of 2018 (according to Total Guitar readers):
10. The Nameless Ghouls (Ghost)
9. James Hetfield, Kirk Hammett (Metallica)
8. Zakk Wylde (Ozzy Osbourne)
7. Mark Morton, Willie Adler (Lamb Of God)
6. Lee Malia (Bring Me the Horizon)
5. Jason Hook, Zoltan Bathory (Five Finger Death Punch)
4. Adam 'Nergal' Darski, Patryk 'Seth' Sztyber (Behemoth)
3. Jeff Ling, Luke Kilpatrick (Parkway Drive)
2. Synyster Gates, Zacky Vengeance (Avenged Sevenfold)
1. Adam Christianson, Josh Middleton (Architects)
Top 10 best prog guitarists of 2018 (according to Total Guitar readers):
10. Steve Hackett
9. Steven Wilson
8. Bumblefoot (Sons of Apollo)
7. Charlie Griffiths, Richard Henshall (Haken)
6. Matt Bellamy (Muse)
5. Acle Kahney, James Monteith (Tesseract)
4. Plini
3. Mikael Åkerfeldt, Fredrik Åkesson (Opeth)
2. John Petrucci (Dream Theater)
1. Claudio Sanchez, Travis Stever (Coheed & Cambria)
Top 10 best blues guitarists of 2018 (according to Total Guitar readers):
10. Ana Popovic
9. Dan Patlansky
8. Billy Gibbons (ZZ Top)
7. Kirk Fletcher
6. Kenny Wayne Shepherd
5. Gary Clark Jr.
4. Eric Gales
3. Mark Knopfler
2. Samantha Fish
1. Joe Bonamassa
Top 10 best acoustic guitarists of 2018 (according to Total Guitar readers):
10. Richard Thompson
9. Vance Joy
8. Klara & Johanna Söderberg (First Aid Kit)
7. Jon Gomm
6. John Butler
5. Jamie Lawson
4. Scott Matthews
3. John Smith
2. Tommy Emmanuel
1. Mike Dawes
Top 10 best new guitarists of 2018 (according to Total Guitar readers):
10. Hamish Anderson
9. Tash Sultana
8. Lindsay Hamilton (Vodun)
7. Paul Swarbrick (Boss Keloid)
6. Brady Deeprose, Dan Nightingale (Conjurer)
5. Lindsey Jordan (Snail Mail)
4. Sam Rushton (Orchards)
3. Marcus King
2. Jake Kiszka (Greta Van Fleet)
1. Rabea Massaad (Toska)
Top 10 best online guitar personalities of 2018 (according to Total Guitar readers):
10. Davie504
9. Mary Spender
8. Samurai Guitarist
7. That Pedal Show
6. Steve Terreberry
5. Rob Scallon
4. Rob Chapman
3. Ryan "Fluff" Bruce
2. Music Is Win
1. Ola Englund