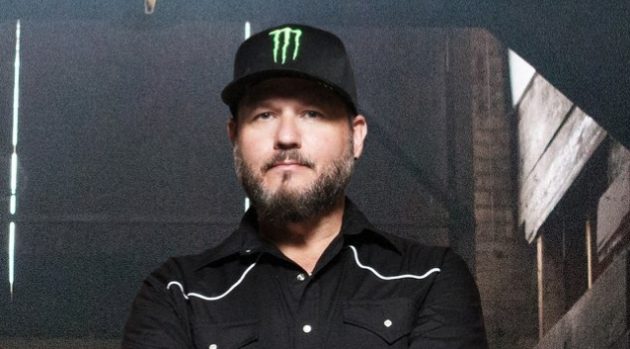 Former JUDAS PRIEST and ICED EARTH frontman Tim "Ripper" Owens has blasted Nike as a "one-sided racist company."
Owens made his comments in an apparent response to reports that Nike pulled a patriotic sneaker featuring the so-called "Betsy Ross" flag from shelves at the behest of Colin Kaepernick, who reportedly informed the company the design had racist ties.
Yesterday, Owens tweeted: "Hey @nike. How about pulling shoes that no one can afford. I think we need you to us equality for all not just people with money or people who steal shoes!!"
After one fan chimed in that "@Nike hates America", Owens wrote: "You are correct. It's a one sided racist company and it's a shame. Ok to have their shoes made by slaves and then charge $200 for them. There is no equality at all with Nike!"
Nike reportedly shipped the America-themed Air Max 1 USA shoes to retailers, then asked they be returned without an explanation.
Owens was recently interviewed on California radio station 96.7 KCAL-FM program "Wired In The Empire" were he discussed "Dio Returns" hologram tour.
On the preparation that went into the "Dio Returns" tour (as transcribed by Blabbermouth.net)
Tim: "We've got a few songs we sing with the hologram and we've got to figure out where to stand, things like that. The pre-production was really long and right to the last minute. You're syncing everything together, and it's not just a hologram — it's a giant light show and video screens and all this stuff going on. There was a lot [that went] into it.
On the structure of the show:
Tim: "It really just goes itself. We don't want to talk too much, to be honest. I think we just want the show to run into each other. I'll come out and sing a couple, and Oni [Logan] will sing a couple. Obviously, in between, the hologram songs are going on, which are unbelievable, and then Oni and I will sing some together. I try not to do too much talking. For some reason, this show, it doesn't seem like I should… It's a special show. It's an amazing show. It's a very big production — a semi and two tour buses — and we got this thing out there. A lot of money is being spent to try and bring happiness and enjoyment to fans. Some fans don't like the idea because they think [it's] a cash grab, which is the stupidest thing I've heard because it's actually a cash grab in the opposite. It's a cash giveaway, because [Wendy Dio, Ronnie James Dio's widow and longtime manager] is throwing money out to do this thing. It's really an amazing show. It's a spectacle, entertainment, and it's unbelievable."
On his favorite DIO song to perform:
Tim: "I love singing 'Don't Talk To Strangers' because I haven't sang it in a long time. Onistarts off with the slow part, and then I come in and sing the rest of the song. I really love singing all of them. I actually love opening the show, when I come out opening with '[The] Mob Rules'. I love singing that. One of my favorites always to sing, which I'm not singing on this tour, is 'Heaven And Hell'. I love singing 'Heaven And Hell' — its ups and downs, and so much feel. Some are them are pretty hard, singing. Luckily, Ronnie's taking care of 'Rainbow In The Dark', because that one was always a tough one. Ronnie's a tough singer to sing. That's why Oni and I aren't pretending to be Ronnie Dio. We're our own singers."