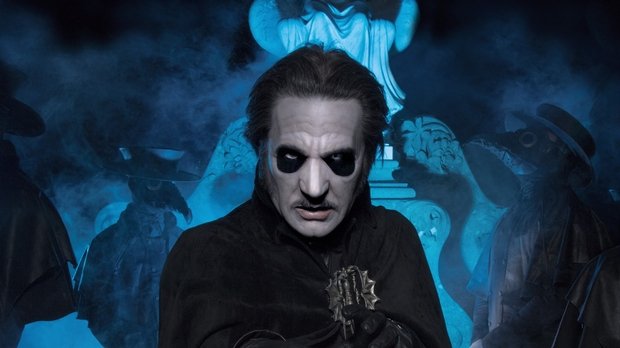 In an interview with RC Reader, GHOST mainman Tobias Forge discussed the importance of band's visuals and also about the possibility about the GHOST movie.
When asked if the visuals are as important as the music, he responded: "Oh, absolutely. Even though I don't sit down and specifically draw and paint our album covers, I've always been very specific in what I wanted. And how I wanted the record sleeve to embody the record I made.
"As a record collector, I am more than often compelled by the artwork of a record. I'm a firm believer in a really nice-looking record sleeve. And that makes me want to like the record more.
"Today, even though people might not consume a recording in the physical way we used to, it's definitely a case of your visual presentation that accompanies whatever file they are going to listen to.
"If the graphic content is aesthetically pleasing to the eye, it opens up an avenue into people's souls. I know this because I'm so easily charmed by record sleeves."
He also spoke about the importance of album titles: "There needs to be a sort of a narrative between the artwork, and the title of the record and, of course, its content. In some way or form, it helps if the title summarizes a little what the record is about. Usually, most good records have some sort of theme – even though the songs might be about different things.
"A lot of singer/songwriters go through phases: it's the 'divorce' album, it's the 'I've just gotten married' record. 'I've just become a father or mother' record. And 'now I'm older' record. And 'the midnight crisis' record. And 'the beard' record.
"In some way or form, it's good to communication a little of what kind of state of mind you were in while making it or which state of mind you want the listener to think you were in. As opposed to just leaving it blank."
Speaking about the possible GHOST movie, Forge said: "I cannot speak about it in detail. But, yes, I've always been very fascinated with the art of filmmaking.
"I definitely am in the process of exploring the possibilities of combining my musician-career with a film project," he continued. "Let's put it that way. And as with anything cinematic, it takes a lot of time – and way more politics – than making a record.
"In the process of this, I'm trying to vet my brain and my ideas into being super-sober about making a film that is actually needed and called for and will turn out really great – so that it doesn't just become a really confusing project.
"Over the course of rock history, there are a few films that have been made that are really cool. Even though many of them end up in more of a cult section because they are … weird. I don't mind weird at all. I grew up watching a lot of films like that.
"I would love to make a film. I would love to make it good-weird, but it needs to be good as well. It needs to be something that people can watch. I'm currently in the process of learning if I can."
In a recent interview with Revolver Magazine, Forge talked about the musical direction he wants to pursue with the band's next album.
The musician pointed out he is aiming to "make a different record" from the latest GHOST effort, 2018 Prequelle, which he described as "a little ballad heavy." 
Tobias added: "I want it to feel different. If I dare to say 'heavier,' people think that it's going to be MERCYFUL FATE all the way … but I definitely have a darker, heavier record in mind."
GHOST's latest album, Prequelle, was released on 1 June 2018. The album marked the band's strongest selling debut to date, landing at number 3 on the Billboard 200, selling 66,000 copies in its first week, with 61,000 of those being "traditional" album sales.