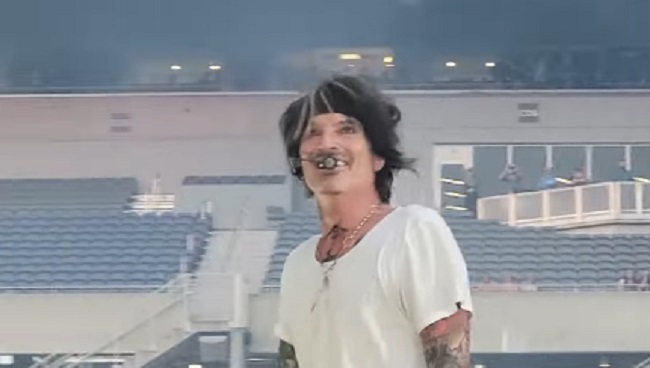 MÖTLEY CRÜE drummer Tommy Lee offered an explanation on why he shared a nude photo of himself on Instagram earlier this month.
After Lee shared the full-frontal selfie on July 11, with the caption "Ooooopppsss," Instagram took it down within hours for violating nudity rules.
Tommy addressed his nude photo controversy while speaking to the audience at MÖTLEY CRÜE's concert Sunday night (August 21) in San Antonio, Texas.
He said (see video below): "A couple of weeks ago, we had like a two-week break off the tour, and I went on a motherf*cking bender, bro — a bender. I got f*cking sideways as f*ck a got naked and posted pictures of my dick. And usually, I mean I'm a t*tty man, so I like to see t*tties, but tonight it's equal-opportunity night. Tonight I wanna see everyone's dick. C'mon, pull your sh*t out. Pull your f*cking junk out. Let's go."
Lee's p*nis was ranked at number eight on Gawker's list of "20 Famous Big D**ks," behind Wilt Chamberlain's.