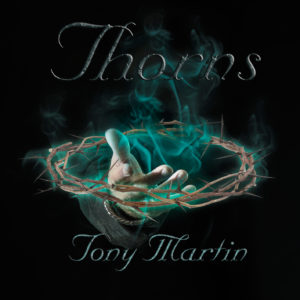 Things sometimes are really funny. Tony Martin stayed with Black Sabbath almost 10 years and recorded six albums with the band. Except for Ozzy Osborne he is the vocalist that stayed longer and recorded the greatest number of albums. Ok, we all know that some of them have a terrible reputation with Black Sabbath's fan. "Forbidden," for instance, was considered the worst album of the band back then. Today, albums as "The Eternal Idol," "Headless Cross" with the amazing video for the album tittle track, and "Tyr" are being seen with fresh eyes. It is a fact, the unadvised fan that got one of those albums back then would really think Dio hadn't left the band due to Tony Martin's so close voice tone. Maybe, just maybe that was the reason Tony Iommy put him inside the band. That's a feature that is impossible not to notice.
Ok, then, here we've got Tony Martin's solo album "Thorns" which my first reaction was 'Wow! Pretty different that I thought it would be' because first track "As the World Burns" sounds pretty modern and heavy as hell. Not even a bit similar with what he used to do with Black Sabbath. Also his voice is graspier and tougher in the song. Only after some seconds the fan will notice that it's him commanding the vocals. That's also the grip of the album not to sound as Black Sabbath. Of course, this isn't possible for all the tracks of the album. In fact, some of them do remind the famous band Tony Martin used to be the vocalist. "Black Widow Angel" cools down a little on the speed and velocity that first track was into. It's more sabbathish than the other. If I dare to say, it sounds more Dio than everything else. That's the thing that I guess makes part of Tony Martin's career; he will be always be reminded as the Black Sabbath vocalist that had a voice very similar to Dio's. No one will noice the funky and lots of swing bass near the end of the track. Fans will mostly pay attention to his tone of voice. Ok, not up to me to refute all of this because, of course, it is true. But "Thorns" offers much more if the fan pays close attention. "The Book of Shadows" has again bass lines that sparkle and call the fan attention. The track is pretty epic with those anthemic choruses and an amazing keyboard solo that reminds a lot the 1970s. Funny to think that "Crying Wolf" has a Uriah Heep taste. Funny because Uriah Heep were a kind of response to Black Sabbath in the 1970s.
"Thorns" is an album full of great tunes if the fan doesn't pay attention to the fact Tony Martin sounds like Dio. The album is consistent, thick, and daring. Daring due to all I mentioned before.
Tony Martin "Thorns" was released on January 14th via Battlegod Productions.
Track Listing:
As The World Burns
Black Widow Angel
Book of Shadows
Crying Wolf
Damned By You
No Shame
Nowhere to Fly
Passion Killer
Run Like the Devil
This Is Your Damnation
Thorns
Watch "As the World Burns" official video here: