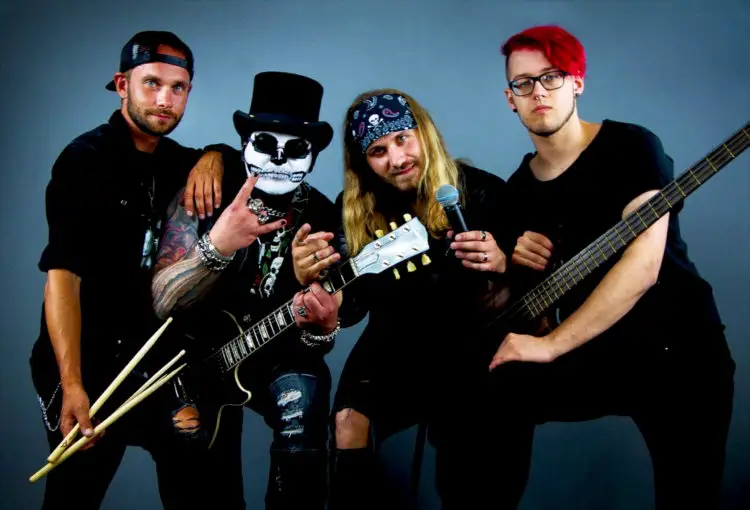 When you think of Bavaria, you think of Lederhosen and folk music. Even the members, the rock band TWISTED ROSE from near Wuerzburg, wear "Lederhosen" – but black, tight, smooth leather jeans with a rock attitude. The music of the quartet is also "folk music," but for the people of rock fans all over the world. Already since 2018 they have been realizing their own version of hard music.
In detail, they are singer Mace, Chris Bones on guitar, bass player Nico and drummer Chris. They have dedicated themselves to the classic sound of AC/DC and Guns N'Roses and are now setting out to conquer the rock world with their own compositions. Their first live successes included their performance at the wrestling event "Extreme," where they convinced the fans of this hard sport with their hard rock sound. The affinity to wrestling is not by chance, after all guitarist Chris Bones was once a wrestler himself. Besides music, he is active in a profession that has often found its way into the lyrics of various rock and metal bands: He is the boss of a funeral parlor. One might think that this is where he gets one or the other inspiration for lyrics.
Frontman Mace is no newcomer in the business, as he played for OVERSENSE for a couple of years. With them he recorded the album "The Storyteller," which was well received by fans and the music press alike. He can even look back on a tour as support act for none other than the metal queen DORO PESCH. Despite these experiences from the past, he only looks into the future, which is clearly called TWISTED ROSE.
Since the possibilities of live gigs are limited at the moment, the rock foursome is concentrating on the first release, which will be released by the label 7us.
The songs are not created in the morgue at Chris Bones' workplace, but in the band's own modern recording studio, the Cravenhall Studio in Veitshoechheim, the home town of TWISTED ROSE. With the spirit of their idols and the sound of today, the hard rockers present 8 songs on their first longplayer "NOW," which do not have to fear the comparison with old-established formations of the genre.
The band is already planning their first gigs for the post-Corona period, when they will finally bring their energetic show back on stage, make the fans sweat and the rock chicks escalate. Until then, it's time to listen to TWISTED ROSE's album often and loudly so that everyone is sure of their lyrics at the shows. The future of straight rock music has a name: TWISTED ROSE.
Band Line Up:
Mace – vocals
Chris Bones – Guitar
Nico – Bass
Chris – Drums
Read our review here.