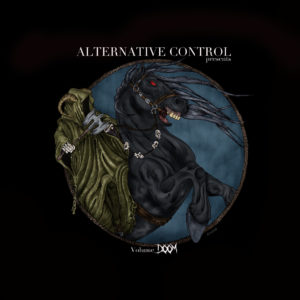 I have to say that I love compilations. They are a very good way to join some new bands and give them a try to record an album, though generally they only share one or two songs. In "Volume Doom" they do it with only one song. The pros is that you give more bands a try, the cons is that it's impossible to pass a fair judgement on their music with only one song.
"Volume Doom" please us with twelve very different bands and that's the great thing of it. I am not really an expert on Doom bands as I'm getting acquainted with the Doom universe. What I can actually tell you is that Doom is very well represented by the bands chosen.
Some may think Doom is kind of predicable. I was in this page, but the two years of reviewing bands and albums made me change my mind. Doom features oblige bands to be more creative in order to stand out from the pack. We have some grateful surprises here as Eye of Nix with "Lull" with female vocals which a certain mystery to the song. The duet with a male raspy voice in the end of it is remarkable. You are my witness that I do like this. But the biggest surprise comes with 1476 with "Winter of Winds" with an uptempo song that reminds a lot 1980's post-punk and a very interesting singer with a dramatic ending. I can't help it telling about first track which is another one with female vocals with the typical doomy feature. Female vocals with doomy intrumentals are cool, so cool.
To tell you the truth, my child of the night, the coolest songs in "Volume Doom" are the ones with female vocals. Check it out the sabbatish Dust Prophet with "Revolutionary Suicide" with great whah guitars and strong chordly riffings embellished by some crunchy ones as well. Well, I'll let the rest up to you. Enjoy, "Volume Doom" is a great release.
"Volume Doom" was released on February 22nd via Alternative Control.
Track Listing:
YOTC – The Descent
Howling Giant – The Pioneer
Mourn the Light – Embrace the Darkness
Owl Maker – Sky Road
Gorge – The Great Dying
Witching – False Martyr
PintoGraham – HighFlyer
Eye of Nix – Lull
1476 – Winter of Winds
Dust Prophet – Revolutionary Suicide
Low Moments – Plague, Take Me
Kurokuma — Dope Rider pt. 1