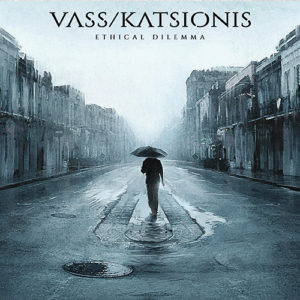 The idea that at first started as a solo album for Vass, took the form of a progressive metal record with the contribution of Bob Katsionis. As Vass stated about the album, the "Ethical Dilemma" is not a direct concept album in the manner of storytelling but is based around a common denominator that characterizes every song. The denominator that occurred is the title of the album.
"Ethical Dilemma" is the album spawn of the collaboration between Terra Incognita's vocalist, Billy Vass, and the producer/multi-instrumentalist Bob Katsionis. The project's debut will be released in February 2, 2022, by the Symmetric Records.
According to Katsionis, this record was the mean to reignite his passion for the progressive metal and get involved again with the particular metal genre.
As a result, the album feels almost flawless. Nothing is misplaced or off-sounding. The vocal performance of Billy Vass is chilling and captivating, charging emotionally every line while the instrumental performance of Katsionis is extremely precise, as it is customary with the genre, without ever lacking musicality.
The "Ethical Dilemma" has a very clear foundation based on influences by bands like Fates Warning and Queensryche. Complex guitars-but not too complex to end up just a show off, precise drum work, time-changing signatures, a clear sense of rhythm, groove and melody, compose the musical aspect of their debut. However, one cannot escape his past, so the power metal background of Katsionis is also visible at times in his compositions.
Their debut is a gem for the Greek progressive metal scene, a killer record filled with great song writing. The '90s progressive influences are visible all throughout the record, but they feel nothing like a copy or a duplication of an already successful album. On the contrary, "Ethical Dilemma" is fairly unique sounding, with its own musical gaze that simply carries its inspirations as a subtle and beautiful tribute.