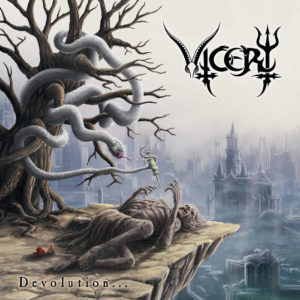 Elio Rigonat is steadily becoming the most prominent name in Serbian metal. As a solo artist, he has put out two well-received melodic death metal albums. As the vocalist/guitarist of Kobold, he laid down a thrash metal thriller that you can read about here. Today, we have Vicery with Devolution…, a death metal album completed by the duo of Rigonat as every instrument and Ivana Momčilović, the band's vocalist.
Devolution… is a definitive death metal album with heavy beats and tormenting vocals. That being said, the album features many elements to it that can be described as power or progressive metal. These features make Devolution… quite the diverse record and not your average death metal album.
Vicery attempt to be in a league of their own on this album. The record features different arrangements, unusual drum beats, strange tunings, and wild keyboards, all with growling vocals. The first sign of this experimentation is the opening track, "TSAR #1." This song starts with a heavy riff over some fantastic drumming. Once the vocals enter, there's a piercing three-chord riff mimicked throughout the song. Together, these elements set the odd mood of the album. "Rapture," the following track, opens in a different mood. It begins with a rather slow tempo drum pattern that marches into the heavy riffs familiar with death metal.
 "Golden Bullet" is another story, however.  It starts out in traditional death metal style: heavy riffs, violent vocals, blast beats, you get the gist. The song later breaks into a keyboard-driven riff that is quite pleasant to the ears. Overall, every instrument must be credited on this track as they each take turns showing their talents. Rigonat lays down a great guitar solo here before delivering a deep and daunting bass line to end the song. That same bass line carries over to the next track, "Enforcer," which further showcases the brilliance of Vicery. For anyone who wants a simple groove metal track, "Nightmare Realm" has you covered.
Instrumentals are usually the throwaway track, but on an album like this, you want to appreciate the music as much as you can. Do not skip over "Euthanasia," you will regret it if you do. "The Cult" opens in a soft bass-driven mood, but quickly divulges into the heaviness we know Vicery is capable of. The album closes with the self-titled track, "Vicery." This closing track sets to culminate all of the talents we have seen throughout this release. It's heavy of course, but there are great songwriting capabilities captured on it.
Too often, death metal bands get caught in trying to sound as "brutal" as possible and forget to take the time to write a well-developed song. Vicery shed all of those worries away with Devolution… The album is death metal at its finest with some great elements thrown in there from all across the metal spectrum. Elio Rigonat deserves all the credit he gets for being a talented musician and excellent songwriter. Ivana Momčilović delivers some great vocals that prove that women can do just as much damage in the metal scene as men. Her vocals are definitely some of the best I have ever heard throughout the genre. Keep in mind that she is only 18-years old! Overall, Devolution… is a great album that you are going to want to give a listen.
Devolution… was released on August 10, 2018 through Narcoleptica Productions.
Track listing:
TSAR #1
Golden Bullet
Enforcer
Nightmare Realm
Salvation
Euthanasia (Instrumental)
The Cult
Dead
Vicery