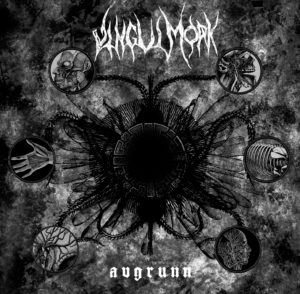 Here we sit upon commom ground. I mean, here we have, what it is possible to call a band that plays a more trendy Metal music – please don't curse me, it's only a way of saying, I mean no harm.
I don't know about you, but it's not all the time that I want to hear surprises, to hear bands that will provoke me; sometimes I just want a band that will leave me in a cozy and confortable place where there is no harm. There are bands that take you to a known place; some bands take you to places where you've been before and that's awesome because security is a desire feature. Vingulmork with "Avgrunn" offer you the commom ground, the place where one feels safe to stay, the known. Their music is not groundbreaking, but still, important and, much more, desired. Tracks as "Land of Nothing" show a band that really knows where they stand. There is really no problem is having the feeling of "I heard that before, just don't know where". By the way, I feel that all the time. So sorry, I'm old and have heard zillions of bands and albums. Of course, most of Metal.
"Avgrunn" has a solid instrumental basis with frantic guitar solos, insane drumming and harsh and eerie vocals. The guitar solo and bridges at the final minutes of  "Doderlein" is really amazing due to the emotion and feelings it may arise. Well, I guess everybody listens to music to have emotions and feelings. Some can always dance to them… Not me, of course. The album goes by safe and known places, but who cares? More of the same? Yeah, indeed. Thank Metal gods for that. Sometimes all one needs is a safe place to rest and enjoy. Only that. The hell with all the poppers that claim for changes and all!
Vingulmork "Avgrunn" was released on June 01st via Crime Records.
Track Listing:
Ytterst
Eternally Swallow Eternally Keep
Land of Nothing
Doderlein
Watch "Land of Nothing" official lyric video here: