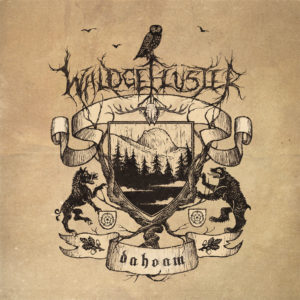 This week was something really unique for me. It happened something that is very rare. I got what is called 'writer's block.' I sat here in front of my computer and I absolutely couldn't write anything. Anything is, of course, a matter of speaking as I'm a compulsive writer. For that reason I wrote less than I'm used to. So, I did one thing that I rarely do that is to check the album before writing. I usually only take a look at the name of the band and put it to play.  However, as the inspiration was very far away from me I decided to take a listen to the albums I got. I only listen to the very first seconds of this Waldgefluster "Dahoam" and thought it would be nice to review something acoustic as the initial seconds of "A Taglachinger Morgen" seemed to be. I guess I was never so flat wrong about an album. Soon after the very first intro the album got its real face that is a desperate and full of regret music. Fortunately for you my dear and beloved fan the block is already gone.
Ok, there is another thing new that happened while listening to Waldgefluster "Dahoam." I finally understood what the term post Black Metal really means and that is the music herein. I understand the times we live in do not inspire much as we've never been so near of a world class catastrophe. No wonder the music inspires so much regret and pain and loathe as "Dahoam" does. I mean it in the way we metalheads like it. The music in here is so gray, so full of regret. The guitars are saddened with those repetitions of high pitched notes as someone were actually crying one's lungs out. Every note is planned to be a cry out, a way of expressing so much pain, agony and suffering. The sadder is that I have no means of not agreeing with Waldgefluster and their pain. This sad and lonely and pathetic little world doesn't deserve better. Who thinks otherwise is flat wrong. We've gotta face it. And fast. So, while this world doesn't end let's hear some more of Waldgefluster "Dahoam," shall we?
Waldgefluster "Dahoam" will be released on September 24th via AOP Records.
Track Listing:
A Taglachinger Morgen
Im Ebersberger Forst
Am Stoa
Am Tatzlwurm
In da Fuizn
Mim Blick aufn Kaiser
Am Wendelstoa
Watch official video here: