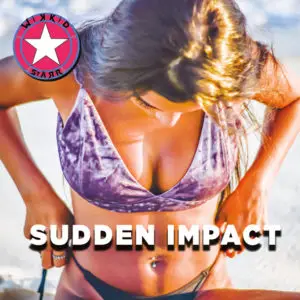 Hair Metal is back with its former glory!
Here we get Wikkid Starr with "Sudden Impact" and album that promises to take Hair Metal back to the place once it belonged. And let me tell something, it gets it with flying colors. The album is everything the Hair Metal fan – wherever and whoever they are – expects from this kind of album and release. "Sudden Impact" is sassy and sensual as the cover art shows to everyone. Just the way bands as Warrant turned them into eternal. Full of country and blues references added with some kickass rock features the album takes the fan in a time travel to when Hair Metal was the law. Lyrics full of girls and lascivious thoughts and actions fill the songs. That's it! That's everything Hair Metal is all about.
Musicwise, "Sudden Impact" doesn't deliver too many news except for some electronic effects in some songs as "Partners in Life." Those do bring some different feelings taking us to the the middle of the 1980s when some bands tried to incorporate them in their music. I liked the ethereal effect it gave to the song. "Partners in Life" do sound a bit different. The album opens up with "Bring It on" which is a groundbreaker and earthshaker tune with lots of guitars as all the album is. Just loved the bursting guitar solo and the insane leading guitar riff. Great invitation card to an album that promises. Guitarists Kyle Kaye and Rafa Souza do an excelent job as their peers throughout the years, I mean, throughout the hairs. The grand finale, as it couldn't be different to follow the tradition, is with the power ballad "You Just Don't Understand" with the mixed taste of Mötley Crüe's "Home Sweet Home" by the keyboards and all Poison's ballads by the impression. By the way, the acoustic guitars in the end are just neat and pretty as hell. Forgot to tell that by the end of it I reminded a lot The Rolling Stones ballads. "Sudden Impact" is just as whammy and delicious as many others and it does keep the faith and hold the flag for some more long. Great representation for Hair Metal, guys! I guess that the band just wants to say to you all that don't get Hair Metal "You Just Don't Understand." To you who don't like Hair Metal just forget the image and enjoy the music. It's great!
Wikkid Starr promised and delivered.
Wikkid Starr "Sudden Impact" will be released on January 22nd via KiK O' Rama Records.
Track Listing:
Bring It on
Out in the City
All Hell's Breaking Loose
Hot Love
Bump & Grind
Pump House
Rocket Ride
Betty Sue
Snake in the Grass
Partners in Life
Uncle Sam
You Just Don't Understand
Watch "Bring It on" official video here: