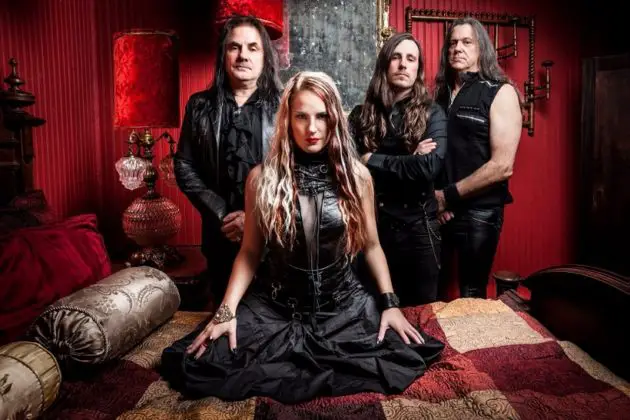 American symphonic rock act WORHOL have signed a world-wide publishing deal with  Wormholedeath Records. The bands debut album "The Awakening" will be released worldwide on July 14th, 2017 via Imminence Records.
WORHOL statement:
"When you strive to succeed, paths are created. When you put your soul into your art, doors open. When you build your team, opportunities are endless. We in Worhol are ecstatic to announce that we have signed a world wide publishing deal with WormHoleDeath and look forward to all the things we will accomplish together!"
WORHOL was fully formed in 2013 when lead singer Ashley Worhol and her father Larry Worhol decided they wanted to follow their dream together as a team. Both having degrees in music, they knew they had the knowledge and experience it would take to compose the music they're so passionate about. Larry being the guitarist as well as the orchestral composer, fit in perfectly with Ashley's trained vocals.
The father-daughter team started writing music close to ten years ago and knew they wanted to form a group and write original music to perform worldwide. With a classical background rooted in both Ashley and Larry, WORHOL's music can be best described as symphonic, theatrical and over the top. Ashley and Larry are kin to Andy Warhol and decided to keep the band name in the family. Once WORHOL was set, they reached out and found the rest of the members of the band; Craig Malinowski on bass and Marty Naul on drums.
Over the 2013 year, WORHOL produced their first music video to "The Darkness" and started writing compositions for their first album. WORHOL has participated in several music festivals as well as played in many named venues inside and outside of the Houston area. In 2014, WORHOL really started to prove their name in the industry by opening up for Nationals Acts such as, Saving Abel, Puddle of Mudd, Surrender The Fall and Almost Kings. WORHOL has been published in Billboard Magazine, Revolver Magazine, Metal Onslaught Magazine, Fireworks Magazine and more. In 2016 WORHOL also inked a deal with California based Imminence Records for the release of the bands debut album, "The Awakening" which would be released worldwide on July 14th, 2017. WORHOL also inked a publishing deal with Wormholedeath and Warner Music giving the band a strong presence throughout the music industry.