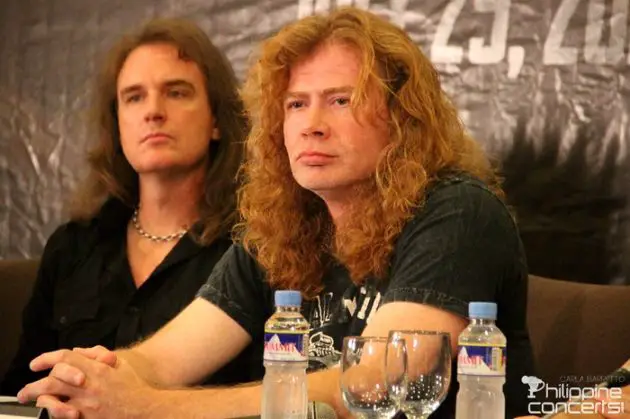 MEGADETH bassist David Ellefson provided an update on Dave Mustaine's health status who was diagnosed with throat cancer this past spring.
Ellefson told Sofa King Cool: "He's doing okay. He's in his recovery now, so we'll kind of let that take its course. And when he's indicating he's ready to start working and maybe doing some recording and getting back into it and stuff. And, of course, we have the MEGADETH, FIVE FINGER DEATH PUNCH and BAD WOLVES tour announced for January. So we're just kind of letting him dictate that as his recovery [continues]."
When asked if MEGADETH would consider finding a temporary replacement for Mustaine if he's is unable to do the FIVE FINGER DEATH PUNCH tour due to his health, Ellefson responded: "I don't think so. I mean, it's pretty hard to replace Dave. [Laughs] I think at this point, we're MEGADETH and we're a four-piece band.
"The main thing is we're hopeful of a recovery. So we'll let that take its course, and we kind of just make the decisions as we go. Right now, we're optimistic 2020 will be a good year."
In a recent interview with Pomelo Rocker, Ellefson said that there is no tentative release date yet for the band's upcoming studio album, but also revealed that band's frontman Dave Mustaine has completed his throat cancer treatments.
"With Dave's throat cancer treatments that he has now completed, and he's just going through the recovery now, we're hopeful and optimistic about a full recovery for him with that," Ellefson said. "Once he's through that process, we're gonna just let that take as much time as it needs, and then we'll resume with the album. I'd like to hope maybe 2020 we'll be able to get a new album out."
He continued: "Sometime life throws you cards you didn't expect. MEGADETH, we've always been a resilient band and we've always just worked around obstacles. Dave's a fighter, as we know. Just talking to him, he sounds very optimistic about the future for MEGADETH."