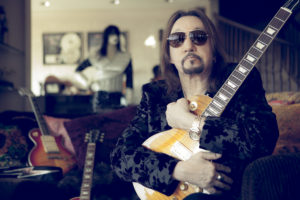 In a conversation with Revolver Ace "The Spaceman" Frehley had a long talk about his career, music, gear, formal musical education among other things. Here we have the transcription done by Ultimate Guitar.
Ace Frehley was asked about the instruments he plays:
"Pretty much just guitar and bass. Everybody in my family plays keyboards except me because when I was growing up, I was the youngest of three kids, and I had to listen to them go through the piano lessons.

"So I had to listen to it with my sister and go to the recitals that she would do, and the same thing with my older brother, when it came time to me I said, 'No good.'"
So, [your latest solo album] 'Spaceman,' how is this different from any other album you did?
"It wasn't that hard for me. The songs kind of developed on their own. There's a lot of songs on this record that were written years ago and I just ended up re-writing them and making them better.

"The two tracks that Anton Fig is playing on were recorded 10-15 years ago, but I was never really happy with the melody and the chorus, and some of the verses. So I kept the drum track and erased everything else and re-recorded everything over his drum track, and it worked this time.

"I'm really happy with the Eddie Money cover that I did, 'I Wanna Go Back.' It was his comeback hit in the '80s, and if you look at the video, it shows him going back to his old high school and driving around in his old neighborhood where he grew up.

"And I immediately identified with the video because I had done a piece for the Village Voice and they wanted me to go up to the Bronx and show them where I went to school and where I lived, where I used to hang out."
What do you love about music?
"Everything. The whole process; creating it, performing live, you know, the fans, the excitement… I love playing loud. I'll never forget the first Marshall amp I got when I was living the Bronx.

"I used to blast that and open the windows, we got complaints from the neighbors but you know… I used to stick my ear in the speakers, I just couldn't get enough of it.

"It's interesting, everybody in the '70s and '80s had always these gigantic speakers with a turntable and a tube amp. Now the speakers are like this big [small], it just doesn't have the punch or the excitement.

"How many times guitar players come to me and say, 'You know, if it wasn't for you, I would've never picked up the guitar.'

"And I appreciate that, but I feel a little guilty because I never took a guitar lesson and all these people are modeling their guitar styles around me when I was never formally trained. It's a little weird, but I've gotten used to it."