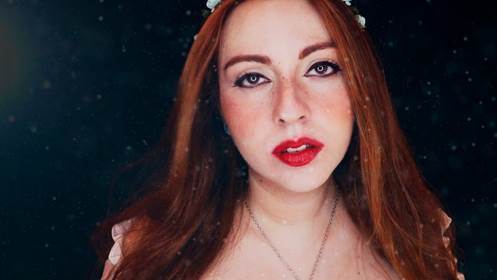 Present at weddings, declarations of love and romantic events in general, the song "I Don't Want to Miss a Thing," by Aerosmith, is one of those songs that everyone knows and loves. Now the hit gets a classical crossover acoustic version by Aline Happ, singer, songwriter, and music producer who also brings influences from folk and Celtic music to the version. The song is available on Aline Happ's YouTube channel, which has more than 10,000 subscribers.
"This is a beautiful love song featured in the movie Armageddon, released in 1998. It was originally a rock ballad, but I wanted to give it a more introspective feel, so I used elements like keyboards, harp and cello. So I present a different version with female vocals and classic elements! This song is very emotional and not just the original Aerosmith version but also the Boyce Avenue version which made me want to record this cover. The world needs positive emotions and I hope this song makes people feel good", declares Aline Happ.
The single "I Don't Want to Miss a Thing" was created especially for the Armageddon movie soundtrack, and was the first Aerosmith song to debut at #1 on the Billboard Hot 100, and was nominated for an Academy Award.
The videos posted on Aline Happ's channel are sponsored by her fans on Patreon. Known worldwide, Lyria is a Symphonic Alternative Metal band founded in 2012 by Aline Happ. Since then, the group has released two albums via crowdfunding support, "Catharsis" (2014) and "Immersion" (2018) and played in several Brazilian cities and also online concerts for all over the world.
Aline Happ's first solo album crowdfunding campaign was a success! Happ is recording her first Celtic/Folk versions of Rock and Metal songs album. The artist reached more than 200% of the goal and soon will announce the next steps about the album and the perks selected on her campaign.
Pre-order the album: https://www.lyriaband.com/alinehapp
Follow Aline Happ
Facebook: https://www.facebook.com/alinehapp
Instagram: https://www.instagram.com/alinehapp/
YouTube: https://www.youtube.com/alinehapp
Spotify: https://bit.ly/alinehappspotify
Watch here: