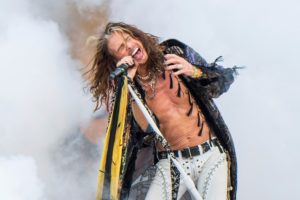 Last night, February 10th, iconic music legend and humanitarian Steven Tyler celebrated his second annual Grammy Awards Viewing Party to benefit Janie's Fund with over 500 friends and supporters including: Sharon Stone, Leonardo DiCaprio, Mark Wahlberg, Alice Cooper, and more at Raleigh Studios Hollywood.
The second annual event raised over $2.8 million dollars for Janie's Fund, a philanthropic initiative created by Steven Tyler in partnership with Youth Villages, one of America's leading nonprofits, to bring hope and healing to girls who have suffered the trauma of abuse and neglect.
Tyler first gave voice to this cause with his hit "Janie's Got A Gun," and his establishment of the fund ensures that these vulnerable girls will have an enduring voice for years to come. Since the November 2015 launch of Janie's Fund, the organization has raised nearly $8 million, directly helping more than 800 girls and providing more than 115,000 days of therapeutic care.
Watch "Jane's Got A Gun" official video here: