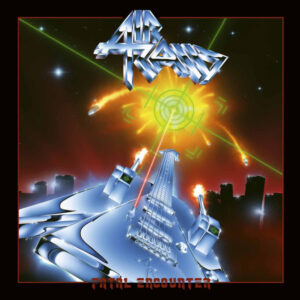 It's really such a fantastic thing when we have the opportunity to follow a band's career. It's great to review album after album in a sequence as we're doing with Air Raid. We see in loco the cnages and trnsformations a band go through. First album we've got our hands in was 2017's "Across the Line" which had a sonancy much more linked to early 1980's Heavy Metal. It was an album that was immersed on what Thin Lizzy, early Judas Priest, Quartz, and others used to do. Then came 2022's "Runaway" which as the tittle says was a step beyond cronologically. Air Raid made a trip to the U.S.A. and drank profusely on the fountains of what would be called later Hair Metal. "Runaway" is a Hair Metal album more notably similar to bands as Bon Jovi, Mötley Crüe or even Warrant, if my dear child of the night knows what I'm saying. Now we've got their newest album "Fatal Encounter" which, by the way, stands for Hair Metal as well but a different kind of Hair Metal. The Hair Metal that meets Neoclassic. I have to say that instrumentally and musically "Fatal Encounter" is miles away form its predecessor. In a nutshell, it's where Dokken meet Yngwie Malmsteen, if you know what I'm saying.
The album is opened by the Dokken inspired "Thunderblood" which is a great track. The band chose the perfect track to be the album welcomer. It's a warm song. It's so inviting. Its guitar riffings are strong and fast just the way Dokken used to do. My dear child of the night who knows the band will be stranged by the change of heart of the band. "Fatal Encounter" is completely different from "Runaway" from head to toe. Then comes "Lionheart" with giant drum fillings and a killer guitar riffing. Dokken are still in the air. I do sense some Rainbow of Joe Linn Turner's era here as well. It's from "In Solitude" on that the album goes changing to a more Neoclassical influence. Here vocals do the trick. "See the Light" is the track that gets the idea totally. Listen to the guitars and how they use classical structures in solos and licks. It's from here that the magic happens.
I have to say that is great to have reviewed such albums from a band that can't stay put. This kind of movements is the thing that makes a band great. This search for the perfect sound is naturally so Metal.
P.S.: Air Raid covers "Pegasus Fantasy" from the anime Zodiac Knights. It's not the first time I receive a band covering this theme. If you're curious 2021's Trick or Treat "The Unlocked Songs" did it as well. Don't ask me to choose a band, please. I liked both.
Air Raid "Fatal Encounter" will be released on Februay 24th via High Roller Records.
Track Listing:
Thunderblood
Lionheart
In Solitude
See the Light
Sinfonia
Edge of a Dream
Let the Kingdom Burn
One by One
Pegasus Fantasy
Watch "Thunderblood" official music video here: