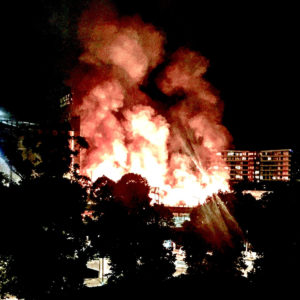 Every change has its pros and cons. This huge change in the music industry gave bands much more control of their own careers. So, there are open rooms for almost every crazy or odd thing bands wonder. Musicwise imagination is the only limit. Here at Metal Addicts, we've been receiving lots of instrumental only albums, most of them of regular bands which were in the mood of making some instrumental music. Some years ago, only a band of virtuosos or a guitar virtuoso would record an instrumental album. That's the way it was. But times change, my friend. Bands are subverting this 'rule.' Thus, some of the bands we've received are specialized in instrumental music.
Today's band All Of The Dirt All At Once with "Vire" is one of them. The music All Of The Dirt All At Once do is a kind of modern metal with a leading bass with some melodic guitar parts. To fulfill the lack of a vocal, which is the leading part to give the aggression needed, All Of The Dirt All At Once use bass lines to make things harsher. Sometimes it is the guitar which does that as in "Funnigan's Irish Bar" – great name for a song. It works fine for them. By the way, songs' names are also a highlight about All Of The Dirt All At Once. They are very creative and awkward sometimes.
There are eleven tracks in "Vire" and most of them are short in the range of the minute or so. There are no guitar solos at all, if it's that you're looking for. Guitar lead parts are chordal. It takes great musical imagination to do so. I guess soloing is easier. That's what happens in "Don't Push Anyone in The River" (Great advice. I won't do it) and "F**kin' Hell (I'm a Banana)" whose names are priceless.
All Of The Dirt All At Once with "Vire" will be released on August 24th (Oh! It's today!).
Track Listing:
They Burnt My Car
Bomb It Up, Boy
I Used To See Japanese Doom Bands At Pony
Funnigan's Irish Bar
Don't Push Anyone in The River
F**kin' Hell (I'm a Banana)
The Lone Pone
Black Dirty
Filler
I'm Just Gonna Go Take a Look Over Here
I Keep Coming Up Over Every Horizon
Watch "Ipso Facto" video here: