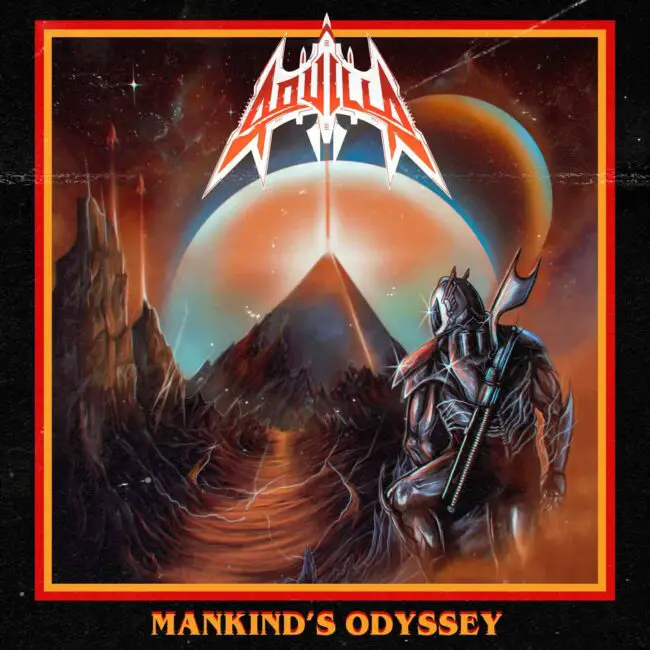 For the record, "Mankind's Odissey" isn't a concept album but a part of Aquilla's lyrical and conceptual theme that is a futuristic story of a mankind that has left Earth and ventures through the unknown in order to find a new place to live long and prosper. As a matter of fact, the band's lyrical ego has been all about this thematic from the start. Oh, boy! I just love that kind of thing. It's too much me. I love those dystopian stories where there's some apocalyptic events that drive humankind to its end, or barely. Yeah, I just love that thing. In fact, Metal music has been dealing for a long time with the apocalypse, however, apocalyptic events not that much. Shows like "The 100" tell this kind of story.
As the perfect soundtrack to all this, Aquilla delivered that good old Speed Metal with some falsetto vocals that would make King Diamond very envy. Vocalist Blash Raven is a hell of a singer with a very versatil voice that goes from the above mentioned falsetto to some low tuned voices. Well, I wrote Blash Raven but I 'm not sure he's the owner of these wondrous vocals in the the album because there is no information about it. I did a small research for the vocalist's name at Encyclopaedia Metallum and the info I got is that he was the vocals untill 2022. Aquilla's music do adress to Mercyful Fate except for their thematic. It's fast, it's heavy, it's doomy, it's gloomy most of the times and with a killer guitar duo. Some tracks fall from this as "Scarlet Skies" with its dissonant guitars full of overdrive and the gothic vocals low tuned vocals in the beginning. This track somewhat reminds of Judas Priest's "Worth Fighting for" not only for the cheerful instrumentals but also for the vocals. Album opener "Arrival" and "Rapt in Darkness" are the tracks that best represent "Mankind's Odissey" and its musical journey. "Rapt in Darkness," for instance, is the track that best represents the vocal duets the album delivers.
Ok, when I said Aquilla addressed to Mercyful Fate I meant that their sonancy reminds the later. The blend Aquilla do here goes beyond. The vocal duets in "Intersection" tell my child of the night so. I find the music in here pretty exciting not only because I do love Speed Metal and the lyrical theme Aquilla chose but also because the band is so cohesive. From here it's possible to feel the excitement in the air. The guitar duo is so sharp and active in thie interventions. They just flow naturally. If the fans don't like their music, they sure do.
Aquilla "Mankind's Odissey" will be released on January 13th via Jawbreaker Records.
Track Listing:
Echoes of the Past
Arrival
Pathfinder
Scarlet Skies
The Awakening
Rapt in Darkness
Intersection
Saviors of the Universe
New Dawn of Evadera
Zero [Bonus Track]
Watch "Arrival" official music video here: