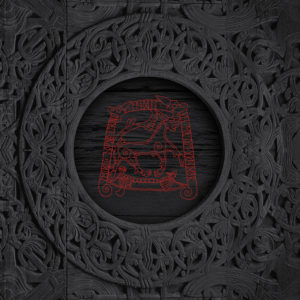 This album made me fully understand the real meaning of Atmospheric Black Metal with its long and full of white noises and other effects and soundscapes tracks taking it to the borders of Art Rock or even Prog Metal. But the death growls made no mistakes, Arstidir Lifsins are a Black Metal band and "Saga á tveim tungum II: Eigi fjǫll né firðir" is their fifth album and Metal Addicts had the pleasure and honor to review their fourth effort 2019's "Vapn ok vidr." Even though the narrator that takes most of the talk.
I have to warn the fan that "Saga á tveim tungum II: Eigi fjǫll né firðir" isn't for the newcomers to Atmospheric Black Metal nor to the hardcore Black Metal fan that loves raw and lo-fi productions. It is the otherwise. Besides being a sullen album, "Saga á tveim tungum II: Eigi fjǫll né firðir" has a wonderful and neat production with many different atmospheric passages that will please all the fans that are into this kind of Black metal and, I dare to say, all Prog fans around Metal. However the album is all in old icelandic, the fan while listening to it may have noted that it seems to be a concept album as it is Arstidir Lifsins' blood. If you thought so you nailed it! The album tells the story of two siblings during the later period of the Norwegian king and saint, Óláfr Haraldsson (995-1030). The band goes thoroughly the story telling with living details battles and other happenings. The nine tracks herein were built to fulffil the needs of the story and not otherwise. That's why there are so many changes of moods, tempos, cadences and vocal performances. It is an album to listen carefully to get each detail of it and follow all the musical plot twists that only a Metal band can give the fan. A good translation in English would fit perfectly. Just saying…
Arstidir Lifsins and "Saga á tveim tungum II: Eigi fjǫll né firðir" are here to prove the very high level Metal has reached inasmuch production and ideas. The album also proves my hipothesis that Metal is about life in all its façades. Metal fan deserves no less than that, if you ask me.
Arstidir Lifsins "Saga á tveim tungum II: Eigi fjǫll né firðir" will be released on May 22nd via Ván Records.
Track Listing:
Ek býð þik velkominn
Bróðir, var þat þín hǫnd
Sem járnklær nætr dragask nærri
Gamalt ríki faðmar þá grænu ok svǫrtu hringi lífs ok aldrslita
Um nætr reika skepnr
Heiftum skal mána kveðja
Er hin gullna stjarna skýjar slóðar rennr rauð
Um nóttu, mér dreymir þursa þjóðar sjǫt brennandi
Ek sá halr at Hóars veðri hǫsvan serk Hrísgrísnis bar
Watch "Er hin gullna stjarna skýjar slóðar rennr rauð" official video here:
893