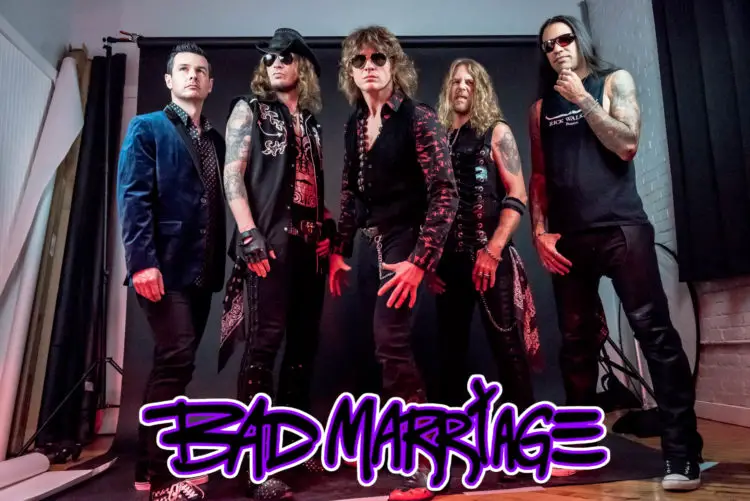 Boston's Bad Marriage come out of the gate swinging their hard rock hammer with both fists, laying down their blistering boogie with heavily swung rhythms. Their repertoire digs deep with influences including AC/DC, Led Zeppelin and Aerosmith. Bad Marriage pack their material with British blues-infused hard rock riffs and gutsy, soaring melodies. They've crafted a collection of egotistical hip-shakers including "Knock 3 More Times," "Miss Outrageous" and "Electric Emerald Eyes."
Formed in 2015, Bad Marriage are the brainchild of lead guitarist Mike Fitz. Fed up with past bands he decided to hand pick the last best rock and roll band. He quickly brought in Michael Delaney (drums), JonnyP (vocals) and Ian Haggerty (guitar) knowing them for many years. The band started to write/record/ and play shows but still hadn't found a permanent bass player. In late 2016 Fitz met Todd Boisvert (bass) and the final piece of Bad Marriage was located. In early 2018 Bad Marriage released a digital EP titled "Knock 3 More Times" engineered and produced by Fitz and released many digital singles.
Named Classic Rock's Best of 2017 for their song "Electric Emerald Eyes" and were featured on the CD that accompanied the magazine. 2019 saw the release of their full length self-titled album, engineered and produced by Fitz, and mastered by Grammy award winning engineer Maor Appelbaum., Bad Marriage acquired a deal with Fanatics.com to have "Nay-Sayin Blues" used in all of their current TV advertising.
The band has supported Extreme, Dokken, LA Guns, and many more. Most recently touring with Tesla in September 2019 and returning to the road, again with Tesla, in February 2020. Catch their electric, high energy shows at a venue near you.

Line-up:
Jonny P- Vocals
Mike Fitz- Lead Guitar
Ian Haggerty- Guitar
Todd Boisvert- Bass
Michael Delaney
Read our review here.