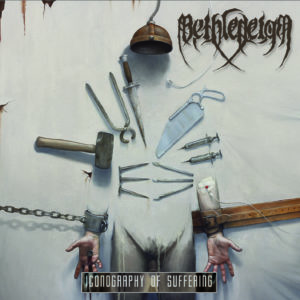 In general Extreme Metal bands are heavy, dense, and dark, but hardly ever they are adrenalized and energetic. It's an option bands have to do when they opt for Extreme music. From where I'm standing the problem is the speed which forbids cadenced rhythms and more energetic themes. Of course, this is not a rule, there are examples of Extreme Metal bands that were able to gather both features. Bethledeign with "Iconography of Suffering" is an honorable example. The fan who listens to "Iconography of Suffering" has the pleasure to see a band which gather an expressive quanta of energy and the world known extreme violence and heavyness.
"Domain" is the kind of track that sweats adrenaline and energy for all pores hanks to the prominent, fast, and effective drumming. following track "Invoking the Apostasy" has the same intent being, though, a bit slower but with a very catchy guitar riff and a complex drumming. With a more careful listening to "Iconography of Suffering" things get a little more standard, but it doesn't mean that Bethledeign forgot how to energize their music, it is simply a change to a more Melodic Death Metal grip.
"Iconography of Suffering" is a short album even though with eight tracks in it. The fact is that the tracks are about the average of three minutes or so. A highlight to the drumming which combines speed and technique giving the energetic atmosphere the album exhales. Guitar interventions are creative and somewhat complex which give the album its Death Metal sense. Take "Opens-Eviscerates" and "Eight Pointed Star" as examples. But if the fan wants some raw and brutal Death Metal tracks, title track "Iconography of Suffering" and "The Lament Configuration" do it very well. So, "Iconography of Suffering" is an to please Death metal fans no matter what kind of they do like.
Bethledeign "Iconography of Suffering" will be released on December 17th.
Track Listing:
Domain
Invoking the Apostasy
Opens-Eviscerates
Eight Pointed Star
Iconography of Suffering
The Lament Configuration
Besieged by Night
Prey for Oblivion
Watch "Domain" official music video here: