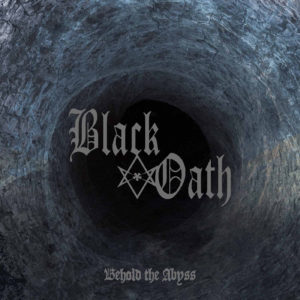 Doom Metal bands are always surprising me when they don't follow all the rules, when they are eager to add something else to the world of Metal music. Black Oath do that with "Behold the Abyss" and that is because they add melancholy and sad melodies to their music. Their songs follow some Doom Metal rules indeed, but the addition of those elements make them unique. If I were to quote two bands that sound alike them I'd say Omen and Desolation Angels' first track. Though, vocalist A.Th has a tone of voice very near Twisted Sisters' Dee Snider's. That is one more element that bring power, strength. and also a lyriscism that enlightens "Behold the Abyss" songs.
There are six tracks in "Behold the Abyss" and they are all long, as their peers. One of the rules I told about. Songs are at times shoegazed, but there are moments that they get very near the melodic point some 1970s country rock used to do. The ones that were used to be called 'easy listening'. Paradoxal, huh? But that's exactly what gives Black Oath their personality: the melancholic and, why not say, sad melodies with a pop approach. If you add this to vigorous guitar riffing and inspired guitar solos, you've nailed it. The outcome is beyond regular Doom Metal bands. Listen to the melancholic guitar licks in "Lilith Black Moon" and tell what you feel.
This sad and lonely world is full of sorrow, we all know that, so why trying to color it with some fake colors? That's what Black Oath do. The beginning of "Once Death Song" says it all. It's the song that vocals reminds most that 1970ish approach. Guitars are vigorous and strengthful, but also melancholic. Pink Floyd's David Gilmour's school of slow, but full of emotion guitar playing is present. A female voice adds more light to the song. Her voice adds more sadness and sorrow. It's like a goodbye kiss. The final guitar licks reminded me Scorpions' "In Search of the Peace of Mind" with the same emotional content. Strong guitar riffs of "Profane Saviour" are the ones that remind me Desolation Angels'.
"Behold the Abyss" is an album for whom likes music with emotion, but not that simple emotion. It's something more complex, it's not only sadness, it's the rebellion and unconformity.
Black Oath "Behold the Abyss" will be released on November 11th via High Roller Records.
Track Listing:
Behold the Abyss
Chants of Aradia
Lilith Black Moon
Once Death Sang
Profane Saviour
Everlasting Darkness
Watch "Chants of Arcadia" official video here: