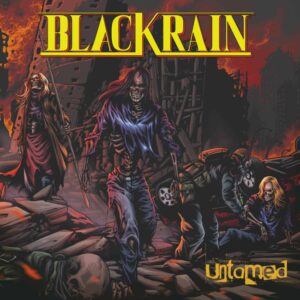 Great albums are supposed to make arise many kinds of emotions. Feelings as happiness, joy, anger, rage, despair, loneliness, and even, some other cheesy emotions are valid options. It might have been unnoticed, but Metal music is all about emotion. Not that plastic and fake emotions other commercial genres display, but genuine because it comes from the guts. Also great albums are usually simple as hell with simple names, tittles, and music. In my very particular case, as I have a musical memory, great albums make remember. My memory goes wild to places I've been before. Most cases my teen years are in the focus. I remember many first times with bands and our beloved Metal music, which was the thing that made my teens bearable. That and the wish to become a Metal musician. That didn't happen though. So, I'm here bothering you my dear child of the night with my reviews and other texts telling you intertwined with my thoughts about the band's album how I feel. The thing is that I see a review as a chronicle where I'm free to tell you everything that links to the music I hear. Blackrain "Untamed" brought me many emotions from the darkest areas of my mind.
It's no secret here that I do cherish and appreciate what is called Hard Rock or Glam Metal. I've said here that I prefer to use the term Glam Metal because it seems to explain better the music the bands do. It's Metal music but with some sugar. Sometimes it's harder than hell, heavier than a ton. Exactly what I feel when I listen to "Untamed" because metallers do feel the need of some sugar in their lives. Live on this sad and lonely and pathetic little planet is hard enough not to. Blackrain doesn't save the strength though they don't save the sugar as well. Vocals are full of emotion in contrast with a hard and pounding intrumental thought I feel that instrumentals are a little lower in volume. Interestingly, the band uses some references of dance music as in "Kiss the Sky" and "Neon Drift" as starters for the heel that is coming with the guitars. They work as a bridge to the pounding of the drumming. I don't think the intent here is to mix both genres but only to use them as a contrast. But it was "Dawn of Hell" with its voice box that really brought me the biggest emotions. My dear child of the night who knows a little more will notice some Bon Jovi in it. Hard not to tell that.
It's one thing here, another thing there that a band can make its own mind. In order to build an image and a personality many bands use the cauldron of influences. It's such a natural thing. I see here in Blackrain the construction of a personality. Only time will tell.
Blackrain "Untamed" will be released on November 25th via Steamhammer / SPV Records.
Track Listing:
Untamed
Kiss the Sky
Dawn of Hell
All the Darkness
Demon
Summer Jesus
Set the World on Fire
Neon Drift
Blade of Love
Raise Your Glass
Shut Down
The End
Watch "Untamed" official music video here: