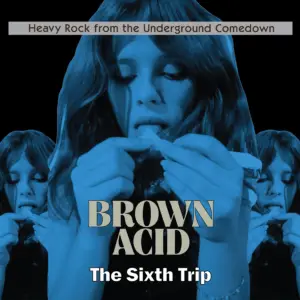 "Brown Acid: The Sixth Trip" is the real deal. A compilation of late 1960s and early 1970s obscure and unknown American acid and psychedelic rock bands. I found that very appealing. As I told before, acid and psychedelic rock bands are the forefathers of Metal, and as one may notice, some sonances will make you remind some famous bands around. If one listen very closely, the sonance will also be very appealing and familiar.
I do not know if today's heavy metaller kids listen to all this stuff. Well, to be very honest, I do not think they do. A pity, though. In my opinion, it is kind of important to know the backgrounds. As I keep on telling, nothing comes out of the blue. It is a lesson that history, Marx and Engels, tell us. It is so good to listen again to all those fuzz pedals; the simple, but well-played drumming; vocals that are more than gutural or soprano-like. To me it is kind of an elixir.
Due to the diversity of bands shown here, "Brown Acid: The Sixth Trip" sounds pretty amazing and dazzling. I liked two better, not on purpose the heaviest and with the most revealing guitar playing: Enoch Smoky with "It's Cruel" and Backwood Memory with "Give Me Time." Readers will agree with me that Enoch Smoky reminds a lot Grandfunk Railroad, and a bit early Kiss. "Give Me Time" opens up with a reggae cadence, but soon it goes wild with a very well, and fuzzy guitar playing. A honorable mention to Zendik with "Is There No Peace" and Gold with "No Parking."  Zendik with "Is There No Peace" reminds some Mountain (hey, a good band to dig it up) tunes. The lyrics are somewhat diachronic, though. Gold reminds the good old Ten Years After (another good band to dig it up).
So a big hurray to RidingEasy Records which had all the trouble in bringing us those rare and forgotten jewels.
"Brown Acid: The Sixth Trip" went tripping on April 20th via RidingEasy Records.
Track Listing:
Gold – No Parking
Heat Exchange – Inferno
Travis – Lovin' You
Enoch Smoky – It's Cruel
Backwood Memory – Give Me Time
Flight – Luvin, Huggin & more
Truth & Janey – Midnight Horsemen
West Minst'r -My Life
Purgatory Polar Expedition
Johnny Barnes – Steele Rail Blues
Zendik – Is There No Peace
Watch Brown Acid "The Sixth Trip" trailer here: