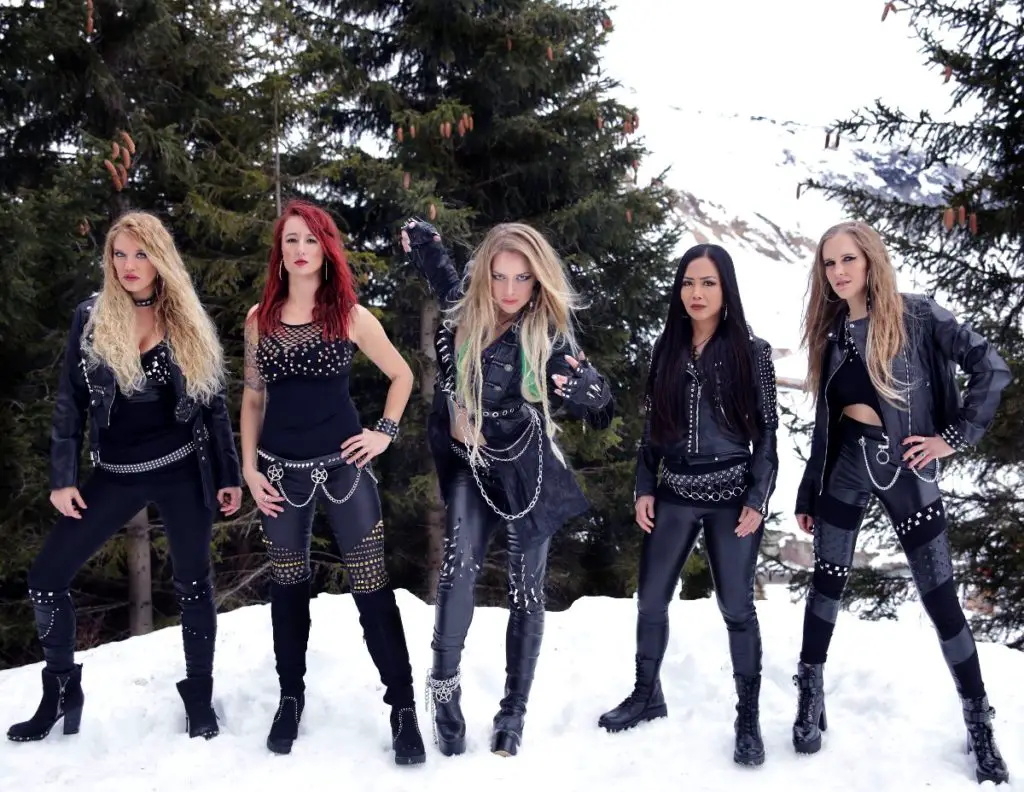 Pure witchery: barely twelve full moons after the release of their third opus, "Dance With The Devil," Burning Witches return steeled and superior with "The Witch Of The North," their most fiery and thunderous work to date.
An album equipped to become a modern metal classic, a work of reference for honest, true steel. It's obvious: anyone who manages to deliver such a Witch Hammer after just one year has to have the magic touch. Black magic that is!
But that's exactly what this band have always possessed. For five years the Swiss witches have been putting their occult mark on the international metal world. Not only holding their ground in a male-dominated field, they are also initiating a desperately needed change of power. The triptych consisting of "Burning Witches" (2017), "Hexenhammer" (2018) and "Dance With The Devil" (2020) instantly brought them to festivals like Wacken Open Air, Summer Breeze and Rock Harz Open Air, and the battle cries of these three records are still ringing.
Few bands in recent memory have established themselves as quickly as Burning Witches, and few are able to write such timeless, grand tunes with somnambulistic ease; carrying Judas Priest in their hearts without becoming overly nostalgic, whilst rapidly developing their own unique voice. "We're not really into bigger experiments," confesses guitarist and main songwriter Romana. "We're all burning for classic metal like Maiden, Priest and Slayer. For me nothing's better than this kind of music, so Burning Witches will always stay true to themselves. Whenever you come to my place for a barbecue," she laughs, "only very rarely will you get to hear a record that wasn't born in the eighties."
From the eighties straight to the present day – in 2021, the Witches opened a particularly gripping page in their grimoire: an album forged in the fires of a pandemic, created with patience, finesse and pitch-black lifeblood during a time in which even the Swiss/Dutch coven had to retreat into the isolation and quietness of the dark woods. Right there they hatched new spells and new ways of weaving their potent magic into the world. For Freya, for the druidesses, for the witches as past, present and future.
"We are close friends who really like spending time together," says Romana. "Hardly anything gives us as much joy as music does, and that's why we create a lot of music together. Of course we also go to pubs together, but since that hasn't been possible for a while now and we haven't been able to play shows either, we were writing new songs instead and kept practicing more than ever." Burning Witches made use of the lockdown in an exemplary manner to become even better musicians. "We never had this much time for new music," says Romana. "This album was created without any pressure at all." One thing that spurred the five of them on was the staggering response Dance With The Devil received from fans. "None of us would have dreamed of what we've experienced during the last five years. That lets our flame burn even brighter."
It's nice to hear this exact same fire, this excitement crackle within the new songs. Romana (guitars), Laura (vocals), Jay (Bass) and Lala (drums) completed the band by adding new guitarist Larissa in 2020: "The Witch Of The North" sounds unleashed and completely rounded. We're looking at five pure musicians that have sought and finally found each other. "Larissa wasn't a complete stranger to us, we've known each other since first grade," the guitarist explains. "Ever since she joined we've been asking ourselves why it hasn't happened a lot earlier.
Now it feels like we've been playing together for ages. We have the feeling that all of us have finally arrived. The chemistry in Burning Witches has never been this good." Not to mention the solo skills of the new member. Romana laughs: "We were absolutely flabbergasted by the solos she was knocking out. Truly amazing!"
At the end of 2020, several recording sessions with Swiss metal legend V.O. Pulver and thrash titan Schmier (Destruction) as their producer, enabled this foremost incarnation of the band to take their explosive heavy metal to new heights. "We know each other well and V.O. Pulver knows exactly what we want. He's always pushing us to step up our game," Romana recapitulates the multi-week recording sessions at the end of 2020. When they entered Little Creek Studio, their agenda was as simple as it was effective: "We make the music that's inside ourselves, but we're always adding new elements to the sound in order to keep it exciting. This time, we wanted to sound more epic, and slightly heavier, just a bit more like the type of heavy metal that we love the most. That's all we think of." This is why the bad-ass witches' coven struggles with emphasizing individual songs. "We're not a band that writes singles," Romana firmly states. "For us it's about the love for heavy metal, that's all." Sure, with "Circle of Five," "We Stand As One" or the title track there's an ample amount of rousing, blistering hymns; but for Burning Witches – and you can call that old fashioned if you like – it's the album that counts, from its intro up to the concluding cover song.
Speaking of cover songs: after "Holy Diver" and "Battle Hymn" this time sees "Hall Of The Mountain King" by the mighty Savatage – including guest solos by Chris Caffery – what a choice, what a rendition! "At first we were keen on covering Saxon, because we have seen them live so many times; then at some point our singer Laura suggested the 'Mountain King' and this idea instantly got all of us excited." Romana's enthusiasm even went so far as to buy the same guitar model the late great Chriss Oliva used to record the song in 1987. The highest level of dedication. "We wanted to keep the origin of this music and of our band alive," the band leader comments on the traditional cover songs. "We want to honour the roots and pay tribute to the bands that shaped us. What we are now we owe to these old bands. It means a lot to us."
But Burning Witches don't just see themselves standing in the tradition of classic, epic heavy metal bands. As the enchanted cover suggests it's also about something else, something deeper. The album acknowledges the druidesses of Celtic history. The wise, nature-loving women whom individuals would consult, who were, however, feared and persecuted at the same time. Burning Witches see themselves continuing the tradition of these women. Because one thing is certain: this coven can't be stopped by prejudice, nor by stakes, nor diatribes. The era of the Witches has begun. And anyone who won't join this black magic circle will bitterly regret it for all eternity.
Read our review here.