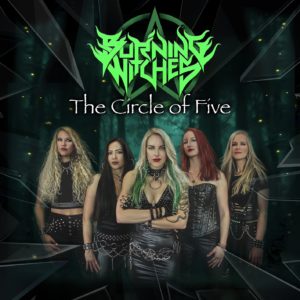 The long and awaited moment of reviewing the great Burning Witches, the rising stars of the bands that dedicated themselves to our beloved Metal music is finally gone. Here I got their new "Circle of Five" EP though a bit late. As I said zillion of times before, I love female bands not only because they are great to have all women instrumentists, but also because they are really great. Women have that magic touch that makes everything more beautiful and bright and this "Circle of Five" EP couldn't be any different.
I confess that I couldn't help myself to stop listening to them. I really don't know how many times I heard it. This album in my humble opinion is simply fantastic though a bit different than their early releases. There are four songs and only one is a time bomb as tittle track "Circle of Five." The other three are acoustic versions of early releases. The vibe of the 1960s is present in all of them showing all the versatile and powerful voice of Seraina Telli who proves to be one of the most talented rising star of this new times of Metal music. Of course, this EP also shows all the prowness and talent of the musicians featuring new guitarist Larissa.
Opening and tittle track "Circle of Five" sounds pretty Judas Priestly of the "Painkiller" era. The song is fast and furious with striking guitars and flaming drumming. Acid and angry vocals complete this powerful scene. Did anyone here mention that girls can't sing powerful songs? Have I mentioned how I loved Laura Guldemond voice? I guess I have. Well, I guess not enough though. Following track "We Eat Your Children" changes it all in the album giving it the 1960s vibe I mentioned before. Here Burning Witches sounds very zeppelinian and this is the thing that makes bright and delightful. The taste of Led Zeppelin's "Kashmir" is all around. It's fantastic the way the band changes completely the way they play. That shows how mature and talented Burning Witches are. By the way, pay close attention to the lyrics. A highlight also to the guitar work here. Versatile and cutting edge. "Dance With The Devil" proves a feeling that I felt with "We Eat Your Children" which is the Janis Joplin influences vocalist Laura Guldemond shows. They get very touchable here especially in the chorus where she does everything she can to touch the aura of this marvelous singer that Janis was. Have I already mentioned that I can't help myself listening to this album? I guess I have, but not enough. And the last, but not least "Black Magic" shows again that Burning Witches are rising stars. No more, no less. A very touchy melody and cozy instrumental.
All right, it's an EP, but it was worthy it each minute I gave to it.
Burning Witches "Circle of Five" was relased on December 04th via Nuclear Blast Records.
Track Listing:
Circle Of Five
We Eat Your Children (acoustic jam version)
Dance with the Devil (acoustic jam version)
Black Magic (acoustic jam version)
Watch "The Circle of Five" official video here: