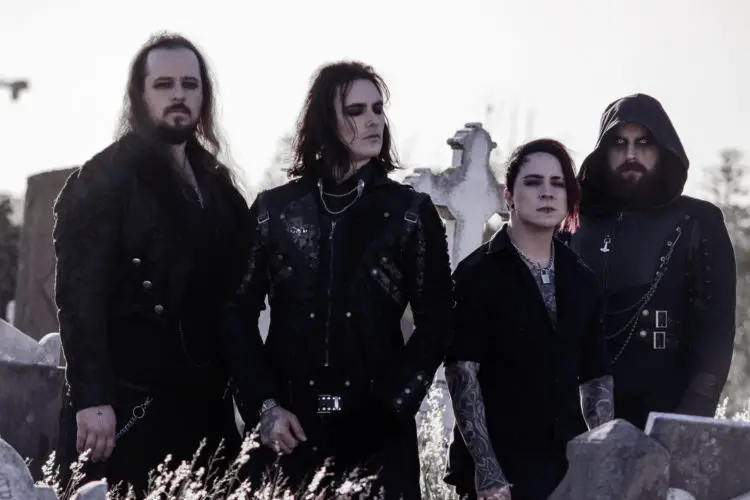 Delivering an alluring, dark sound the Australian Symphonic-Goth Metal act are preparing for a North American release of their debut album "Advenae." Carving their way into the international symphonic metal scene, CARMERIA have crafted an offering that is both ghostly and divine.
'This album has been 6 years in the making. From multiple line-up changes to various developments in direction, it feels quite surreal to finally release this body of work. We're incredibly proud of what we've created, and are thrilled to be building on the momentum we've harnessed over the last 12 months. The band is in a brilliant phase of production and creativity at the moment. I am extremely excited for the future of CARMERIA, and can't wait to witness the ongoing response to this album.'  – Jordan Von Grae (Vocalist)
CARMERIA embrace musical influences from across the board, from the orchestration and cinematic work of HANS ZIMMER to the gothic rock stylings of HIM, along with symphonic metal giants NIGHTWISH. Advenae unleashes a world of soaring melodies intertwined with a monstrous heaviness. From the theatrical opening of the title track, segueing into the delicate and yet demonic "Morningstar," through to the gothic fantasy "Eternity" which soon diminishes into a haunting nightmare. Guttural vocals, staccato orchestration and dissonance induce an immersive experience with a prominent and intriguing carnivalesque style organ melody. It's a thrilling conclusion to the album.
CARMERIA leave no stone unturned in their gothic-symphonic endeavour. Musically, they combine ethereal melodies, with epic harsh vocals thundering guitar rhythms. The atmosphere flowing through the album twists and turns ensuring that both aspects of dark and light endure. "Advenae" is an enchanting release and beautiful addition to the wealth of symphonic metal music.
 
CARMERIA are:
Jordan Von Grae – Vocals
Jerry Zahija – Guitar
Mishka Bobrov – Keys
Emma Louise Nagy – Bass
Lachlan Blackwood – Drums
Socials:
Facebook: https://www.facebook.com/CarmeriaMusic
Instagram: https://www.instagram.com/carmeria/
Twitter: https://twitter.com/carmeria
YouTube: https://www.youtube.com/channel/UCjACfgixK5M4bIS8Wwcvhug
Read our review here.