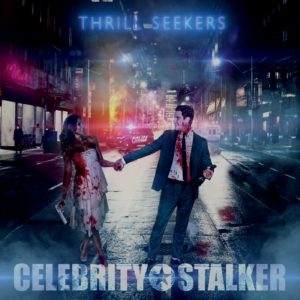 It's been so long time that I don't hear the term crossover that I thought it was worn out. Once upon a time in the 1980s punk hardcore bands and metal bands started a move called United Forces trying to make an impossible union between the two extreme music movements. They were trying to do the undoable. In fact, it kind of worked for some time. Important bands as Motörhead – the real crossover band in fact -, Anthrax, Metallica a bit, brought to Metal some punk riffs and tones. The fact was to bring up all the fury punk bands had and translate it into Metal. Some did.
Here we have Celebrity Stalker with "Thrill Seekers" with a sonance that reminds a little as Suicidal Tendencies, one of the masters of the combination Metal/Hardcore/Skate. Musicwise, some tracks as the opening and title "Thrill Seekers" sound punkish with a debauched vocal and killing chordly riffing guitars. But deep down the fan listens to some Metal influences in riffing and drumning and guitar solos – yeah, guitar solos. That's why Celebrity Stalker remind a lot Suicidal Tendencies whose guitar duo is fantastic. Yet, the track does cause an effect. The wrath and fury within it is remarkable. Celebrity Stalker – wow, what a name! – combine strong Hardcore guitars with its chordly riffing with some inspired Metal guitar solos and riffing. Vocals and chorus are pretty punkish. It's noticeable that it would be very easy to the band to use Thrash metal features to their music, but it doesn't happen. They are a crossover band, not a Thrash Metal band and that's all.
I confess I missed bands like this. Much better a crossover band than a core something or somewhat. Most bands with this core thing sound too modern to me and by modern I mean not suitable. It's so good to hear those ironic lyrics full of debauche and social criticism that only Hardcore bands know how. There is still room to a track as "American Dreams" with a strumming acoustic guitar and very melodic lines. From where I'm standing the best track of "Thrill Seekers" with inspired guitar lines and solos. By the way the most Metal track of the album. "Hatiotrics," on its own way, says a lot. Ah, it's so good to listen to a band that knows what to say.
"Thrill Seekers" isn't an album for you that think that everything is okay.
Celebrity Stalker "Thrill Seekers" was self-released on January 09th.
Track Listing:
Thrill Seekers
Crime Styles of the Rich
American Dreams
Hatriots
Art of War
Repressed
Celebrity Stalker
I Am
Watch "Hatriotics" official music video here: