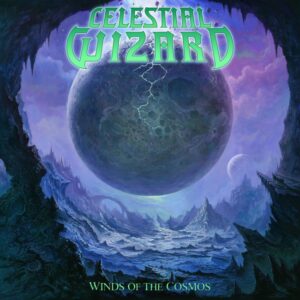 To listen to "Winds of the Cosmos" of Celestial Wizard makes me wonder what it takes to make an exciting and relevant band. What my dear child of the night will listen here won't shake the structures of Metal music world but it sure will supply some minutes of a great time. Celestial Wizard's formula isn't exactly new. It's not the kind of formula that hasn't been tried yet. On the contrary, a few bands have, but the outcome is extremely fullfilling.
The formula Celestial Wizard built here is the good old harder than iron 1990's Heavy Metal plus some Extreme Metal traits in the guitars and on vocals. All this sided with neat instrumentals and inspired songwriting. Insterestingly, "Winds of the Cosmos" has a foot on Melodic Death Metal as "Cyberhawk" tells. The band manages flawlessly to be a kind of hybrid of Old School Heavy Metal and Melodic Death Metal just by varying vocals. Well, vocals are the real deal, if you know what I'm saying for the sake of guitarists. Hardly a band survives the departure of its vocalist. Ok, there are many examples but you know.
It's interesting how bands are adding science fiction and astronomy as their inspiration to lyrics. I've grabbed a few bands here with this thematic. Album tittle and grand finale "Winds of the Cosmos" is a perfect sample of all this. The song is strong and corrosive with great melodic guitar lines interwoven with some acoustic guitars giving its ethereal mood.
If I were the kind of reviewer that only listens to the first initial tracks of an album, this album review would be completely different due to the guttural vocals  crescendo track by track. And to think that when I saw the band name and album tittle plus the initial intro I thought it would be a Prog Rock band. As I said before many times intros, band names and album tittles deceive.
Celestial Wizard "Winds of the Cosmos" was released on January 20th via Scarlet Records.
Track Listing:
Intro
Revenant
Ice Realm
Powerthrone
Scourge
Steel Crysalis
Undead Renegade
Cyberhawk
Winds of the Cosmos
Watch "Ice Realm" official music video here: