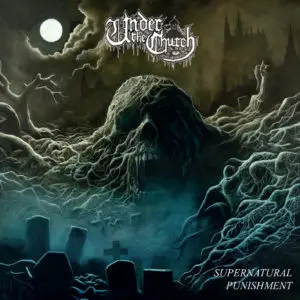 My fellows readers! It's never been so difficult to label a band for you.
Some will say it's useless or else, but as a reviewer it's my duty to label a band to make things easier for you. So, when you decide to listen to the effort, you'll have an idea of what will come.
I generally go with the band. If they say they are whatever they are I'll stick to them. But that's not the case with Under The Church. I don't agree with the press release. In my humble opinion, and my opinion and ten bucks buy a CD, Under The Church are not purely Death Metal. I mean, Under The Church are more open to a various array of influences than death. Only that. I don't mean they suck. Not only for a second. I enjoyed every minute of "Supernatural Punishment."
Let's take the opening track, "The Stygian Horror," as an example. The drums and guitars are too speed metal to be considered death. It's kind of an adrenalized Tyrant, with an angrier singer. The only hint of death in it could be an early 1980 old school death, nothing else. Vocals are one step ahead of gutural, it means that it is much more angry and gritty than gutural. Check "The Death Of Innocence," for instance. Aggressive guitars and an underworld vocal do the job with all the honnors.
The great difference in Under The Church "Supernatural Punishment" and pure death metal efforts is the instrumental. The guitars use a lot of dirty distortion, but they are clear. Guitar riffs are mostly with power chords, which makes songs even more aggressive and heavy. "Wretched Disfigurement" uses both techniques. Let's not forget the last, but not the least, track, "Silence Of The Shadows," which is pure doom with a killer bass line. I'd say "Silence Of The Shadows" is a led zep zombie.
But I won't argue with the band, of course. It's just the reviewer moaning… I kind of deserve that right. Don't you agree?
Track Listing:
The Stygian Horror
Supernatural Punishment
Ancient Ritual
Staircase To Hell
Vitalizing Funeral
The Death Of Innocence
Crypt Of Pelvises
Wretched Disfigurement
Silence Of The Shadows
Under The Church "Supernatural Punishment" will be unearthed on November 10th via Pulverised Records.
Watch "Wretched Disfigurement" official video here: