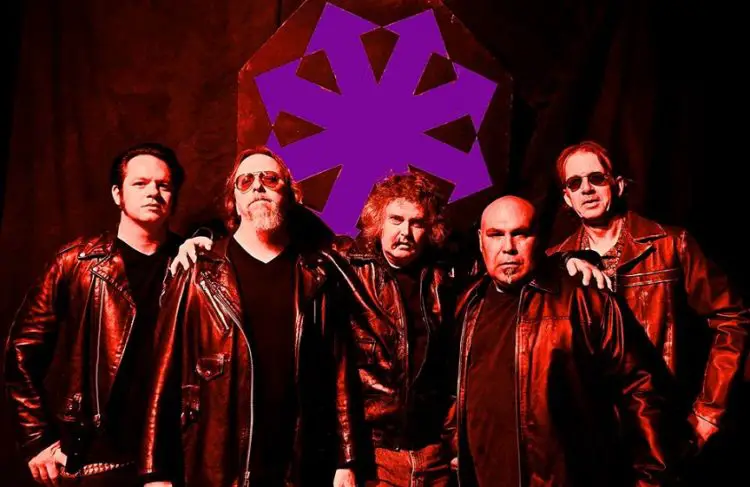 Few bands in the history of the heavy metal underground have a story as remarkable, improbable, or uplifting as that of Cirith Ungol. It is a tale of pioneering innovation, crushing disappointment, self-imposed exile, populist fervor, and, ultimately, global redemption.
The band was formed in Ventura, California, in the early 1970s, long before the rigid tropes and ironclad traditions that define today's Heavy Metal genre had taken shape. There was no rulebook, no template to follow, so Cirith Ungol simply made it up as they went along, allowing their imaginations to run amok and their creativity to be their guide. Musically, Cirith Ungol emerged from the 1970's hard rock / progressive rock tradition epitomized by the likes of Grand Funk Railroad, Blue Oyster Cult and Sir Lord Baltimore.
Rather than passively channeling their influences, the band was driven to forge an altogether heavier, darker, more apocalyptic sound. According to drummer Robert Garven, even in those early days, before heavy metal as we know it existed, the band's burning ambition was to play "the heaviest metal known to man." Vocalist Tim Baker's trademark anguished howls, along with guitarist Jerry Fogle's inventive and otherworldly lead guitar work, and Garven's unorthodox drumming style, this all coalesced into a sound the world had never experienced before. It was obscure and arcane, mysterious and eccentric, epic and expansive, but most of all unfailingly, bone-crushingly heavy, dark and doom-filled.
Cirith Ungol's lyrical approach was profoundly influenced by the high fantasy literature of J.R.R. Tolkien (from whose Lord of the Rings opus they derived their name) and Michael Moorcock, fittingly enough because co-founding members Garven and guitarist Greg Lindstrom first met in a seventh-grade English literature class.
The band first appeared on the scene with their self-produced and self-financed debut album, "Frost and Fire," via their own Liquid Flame Records imprint in April 1981. Cirith Ungol would go on to release an additional four studio albums, two compilations of their own material as well as appearing on various compilations over the years. Finally, after years of frustration took their toll, and Cirith Ungol was laid to rest in May 1992.
As the 1990s progressed, however, a faint, almost imperceptible drumbeat began in Europe. Unbeknownst to the band (who had never played a single European gig), Cirith Ungol had a burgeoning diehard fanbase across the Atlantic. It became commonplace at "true" metal fests around the world to see fans who weren't even born when the seminal release, King of the Dead, was released, to be seen wearing denim jackets festooned with bootleg Cirith Ungol patches. That audience never forgot about the kings of the dead or abandoned the dream of seeing them live. In interviews, Garven admitted that he had dreams of playing onstage again, only to declare, "I am haunted and tortured by the ghost of Cirith Ungol, and I am not sure that I will ever find peace." Tragically, any hopes of a Cirith Ungol reunion were dealt a major blow with the tragic news that co-founding guitarist Jerry Fogle died of liver failure on August 20, 1998.
As time went on, the clamor for Cirith Ungol's return would not be silenced. In late 2015, against all odds, long-dead embers began to smolder and glow. After intense deliberation and contemplation by the involved members, the slumbering giant awakened.
The quartet of drummer Robert Garven, vocalist Tim Baker, and guitarists Greg Lindstrom and Jimmy Barraza began to knock the rust off and rediscover the magic. The band recruited Night Demon bassist Jarvis Leatherby, a seasoned musician, lifelong fan and one of the driving forces behind the decision to reanimate Cirith Ungol, to join on bass.
For a full year, the reformed Cirith Ungol worked tirelessly to rehearse, restore their playing abilities, and become a full-fledged band again. The members were clear-eyed in their decision to come back for the right reasons: Not for money, not for glory or fame, but for the love of the music and, more importantly, the love of the fans who had wanted to see them live so desperately and for so long.
On October 8, 2016, Cirith Ungol headlined the Frost and Fire II festival at the Majestic Ventura Theater, playing to a packed house of metal fans and friends from around the world who had converged on Ventura to see the kings of the dead rise from the grave. It was only fitting that Cirith Ungol's rebirth should take place here. After all, the band's final performance had been on this very stage on December 13, 1991, in front of a nearly empty room. This night was vindication. This night was resurrection. The Frost and Fire show was a smashing success, exceeding the most demanding expectations and converting the most hardened skeptic. Two days later, fresh off their Frost and Fire II conquest, Cirith Ungol were honored by the City of Ventura, which declared October 10, 2016 to be Cirith Ungol Day.
In the ensuing years, Cirith Ungol have held fast to their objective to bring their music to as many metalheads around the world as possible. During 2017-2018, Cirith Ungol delivered additional triumphant performances around the globe including select club gigs in Greece and Germany, headlining shows, and several notable festival appearances including Psycho Vegas (Las Vegas), Keep It True (Germany), as well as the annual iterations of the aptly named Frost and Fire Festival in the band's hometown of Ventura, and the inaugural Frost and Fire UK edition which took place in London. The band have kept the momentum going strong into 2019 by flattening audiences at the Legions of Metal Festival in Chicago, the Northwest Terror Fest (Seattle), and the prestigious Bang Your Head Festival (Germany), where not even torrential downpours and thunderstorms could stop the kings of the dead' relentless metal attack.
The time has finally come for the kings of the dead to unveil their triumphant return to the masses! An expansive double-live album and multi-DVD package entitled "I'm Alive," will be released worldwide on October 25, 2019 via Metal Blade Records. Capturing Cirith Ungol at the peak of their darkened, mystical powers before a rapturous crowd at the Up the Hammers festival in Athens, Greece, this recording showcases the magic and might of Cirith Ungol onstage. Its accompanied by additional full-length performances recorded at the Hammer of Doom (2017) and Rock Hard Festivals (2018) in Germany. For this monumental release, a special in-depth documentary spanning 2 hours in length was recorded. The documentary features exclusive interviews about the history and legacy of the band, as told by the current and original members.
Once again, acclaimed fantasy artist Michael Whelan, whose images adorn each cover of Cirith Ungol's four studio albums, has created the perfect visual accompaniment for the musical content. Its only fitting as Whelan's breathtaking artwork is inextricably intertwined with the music and mythology of Cirith Ungol in the hearts and imaginations of metalheads worldwide.
"I'm Alive" documents an unforgettable night in the history of a truly legendary band, and will allow fans worldwide to share in the glory of this cult quintet rocking harder than ever, more than four decades after their inception. Long may they reign!
Read our review here.