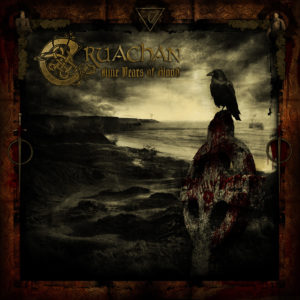 Yeah, boys and girls! We should be very proud of this moment we are living in. Metal is getting stronger than ever and bands are doing such amazing things. Bands like Cruachan are daring to expand all the limits and boundaries ever. Albums like "Nine Years of Blood" are groundbreaking for their boldness and high musical quality.
This kind of mix with celtic and classical music is not new in  Heavy Metal, we all know that, but in terms of black metal, it is kind of brand new. As I told before, this new wave of Black Metal bands made me go black. I am not ashamed of saying that I did not use to like Black Metal when I was a teen. As a matter of fact, I used to despise it. Black Metal in the 1980s was synonym of raw and low quality music to me. But things started to change in the 1990s with new bands from Norway, Sweeden and Finland. The rest is history.
"Nine Years of Blood" is an album that maintain high doses of musical aggression and violence, the most important things to consider in Black Metal bands. Cruachan dosed wisely orchestrations and distorted guitars with high octaned vocals. That is their merit. The fun fact is that black metallers used to make fun of bands like Dio due to its lyrical themes of dragons and dwarves. Only time would tell. Take a look at "The Harp, The Lion, The Dragon and The Sword" where all Dio's favorites are there. There is even some oriental instrumentals there. As most say "The world goes round and round."
As I told before, it is amazing the tradition recovery effort these do with ancient instruments. For instance I learned what a bouzouki is. It is an instrument of the mandolin family. Yeah, Metal is also culture, my beloved readers.
Cruachan "Nine Years of Blood" will rise from the dead on April 27th via Trollzorn Records.
Track listing:
I am Tuan
Hugh O'Neill – Earl of Tyrone
Blood and Victory
Queen of War
The Battle of the Yellow Ford
Cath na Brioscaí
The Harp, The Lion, The Dragon and The Sword
An Ale Before Battle
Nine Years of Blood
The Siege of Kinsale
Flight of the Earls
Back Home in Derry
Watch "The Harp, The Lion, The Dragon and The Sword" official video here: